Lebo unveils new art at Park West Gallery
Park West Gallery invites the public to discover new artwork from renowned Miami artist David "Lebo" Le Batard.
Park West Gallery proudly presents "The Art of Invention," an exhibition featuring the expressionistic artwork of Lebo from Sept. 20 to October 18 at its Southfield, Michigan location.
This will be Lebo's inaugural exhibition at Park West Gallery. Come celebrate during an opening reception on Sept. 20, 2015 from 12 p.m. to 4 p.m.
"It's been a particularly creative time for me and Park West has been a huge part of that, for which I'm eternally grateful," says Lebo. "The opportunity to have a solo exhibition at the gallery in Michigan is a really special continuation of this wonderful relationship."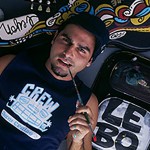 Lebo is recognized for a variety of mediums, including murals, paintings and sculptures. He is the innovator of what he calls "Post-Modern Cartoon Expressionism," blending cartoon imagery with symbols, bold colors and linear composition to convey emotion and story.
"Fearlessness and an unparalleled creative drive have catapulted this young artist into the vanguard of contemporary painters," says David Gorman, Gallery Director for Park West Gallery. "With an ever-increasing collector base, definitive work ethic, and more ideas than can be painted, expect to hear the name 'Lebo' – that is, if you haven't already."
Visitors to Detroit's Hart Plaza may already be familiar with Lebo and his style, as the artist has graced one of its walls with a mural.
For this new series, Lebo has studied and incorporated ideas from ancient alchemy, Roman history and Greek philosophy into his artwork. The exhibition invites visitors to explore humankind's quest to discover the furthest reaches of inner and outer space.
"I've been taking a few of the themes that have been most popular with my collectors and evolving them as well," Lebo says. "Musical themes, animals and nature themes are all being rediscovered in the studio and I'm very excited to be able to present them to such a receptive audience."
Lebo attended Florida International University in Miami, and further developed his artistic skills during a residency at the International Museum of Cartoon Art in Boca Raton, Florida, where he lectured on illustration.
Among his accomplishments are painting the hull of the Norwegian Getaway cruise ship, creating the official artwork for the 2003 Latin Grammy Awards, painting murals in the American Airlines Plaza in Miami, and live-art performances with acts such as the Beastie Boys and DJ Paul Oakenfold.
This will be the first time many of the works will be shown to the public, so don't miss your chance to view and collect new artwork with the artist himself.
Admission to the exhibition is complimentary. Gallery hours are 10 a.m. to 6 p.m. Monday through Saturday and 11 a.m. to 5 p.m. Sundays. For more information or to RSVP for the opening, call 248-354-2343 or visit www.parkwestgallery.com.