Former foster youth to join Millennial Trains Project to aid homeless youth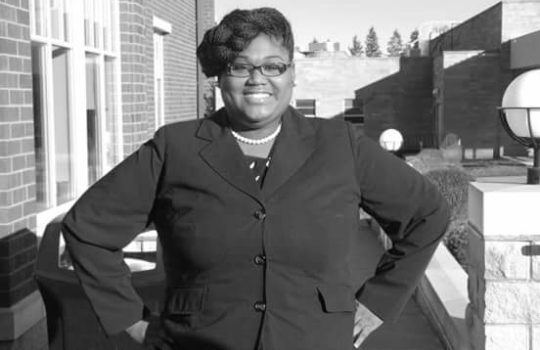 In the 1930s, thousands of transient youths in the U.S. found no hope where they lived, and jumped aboard trains in search of jobs or a new home.
Prior to that, the Orphan Train Movement from 1853 to the 1900s loaded homeless children onto trains, removing them from impoverished situations and placing them in morally upright farming families. This ultimately led to the creation of the foster care system.
It is perhaps appropriate, then, that a former foster and unaccompanied homeless youth who worked with the Park West Foundation is using a train to gain traction for a campaign that addresses youth homelessness in Detroit.
Courtney Smith, 25, is one of 26 people participating in the Millennial Trains Project's voyage from Aug. 10-18. She will use the opportunity as a medium for her "Trailblaze for Transient Youth" campaign that would establish a Drop-In Center in Detroit to provide homeless and high-risk youth with essential services.
"I use the word 'transient' because sometimes when we talk about the homeless we don't talk about the overlap with foster care," she says. "When we talk about youth who are unstably housed, many don't know that couch-surfing or living doubled up is considered homeless according to the McKinney Vento Act."
Millennial Trains Project is a non-profit that provides leadership for crowd-funded transcontinental train journeys for young people to explore new opportunities, grow as leaders and launch projects to benefit their communities. The project runs from Aug. 1-18, with the first half, dubbed "Change," running Aug. 1-7, and the second half dedicated to "Unity." The train will make stops in 10 major cities along the way.
The irony of a young woman using a train to help homeless youth is not lost upon Smith, but it goes beyond irony for her, as a decade ago, she faced struggles similar to those she wishes to address. Smith was in Michigan's foster care system from a young age until she was adopted at age 3. She was forced out of her home at age 16, finding herself among the 1.5 million youth nationwide that identify as being homeless in America.
With assistance from her community and service providers, she defied the odds and graduated from high school at age 18 and went on to earn a degree in sociology and minors in communication and social work from Eastern Michigan University. She is currently pursuing a master's degree in organizational leadership from Grand Canyon University.
"It was hard, especially during summer breaks and Christmastime," Smith says. "I'm very thankful because I had the support of the community and that is why I'm pushing for a Drop-In Center for youth [and run by] by youth for the community because I see the impact the support of the community has on someone."
Using her experiences as motivation, Smith worked as a liaison on education issue surrounding foster and homeless youth with the Park West Foundation while working as a Youth Task Force Coordinator in Detroit for the National Association For the Education of Homeless Youth and Children. This, combined with her drive for social entrepreneurship, inspired her to submit a proposal to the Millennial Trains Project.
Her proposal, titled "Trailblaze for Transient Youth," aims to engage important stakeholders, agencies, government officials and young adults about the implications and impact of youth homelessness. She plans on using her Millennial Trains Project voyage as a medium to launch Detroit's first Drop-In Center.
"The hardest to reach youth would rather go to a Drop-In Center than a shelter," she says. "It is a safe place to be and they can get their most basic needs met, such as to be able to wash, [obtain] clothes, eat…and then to be able to have programming to help further along any educational and social goals they may want to achieve."
The train will make its final stop in Detroit on Aug. 18, making it the perfect end – and beginning – for her campaign. She will conduct site visits in each community, visiting organizations that serve the homeless youth population, to observe best practices and strategies to use when launching the Drop-In Center. She will host a lunch from 11:30 a.m. to 1 p.m. at the Build Institute, located at 2701 Bagley Ave, Detroit, to discuss her campaign.
Smith says she is rekindling relations with her family and she has a happy and stable life, but doesn't intend to stop until others can share in the same fortunes.
"I feel it's my job or duty to reach back and help," she says.
Learn more about the Millennial Trains Project here, and more about the Park West Foundation here.