Exploring London with Artist Peter Nixon
Unless you are a close friend of Peter Nixon, like Park West's Morris Shapiro, or are one of the Park West collectors invited on VIP cruises in the Caribbean, Mediterranean, or the Falkland Islands, you likely won't have the opportunity to spend quality time with the artist, let alone enjoy a personal tour around London. After catching up with him in his NW London studio, the contemporary painter and jazz aficionado took us to some of his favorite haunts around the capital to give his fans a taste of what he loves to do when there's not a paintbrush in his hand. While sadly not a football fan, Nixon did recall a few fond trips to see the Queens Park Rangers play home matches at the nearest ground. In fact, his special occasion dining destination of choice isn't too far from that club's stadium, along the Thames in West London. The next time you visit London, head to one of these spots, and maybe, you'll be rubbing shoulders with one of the finest artists working today.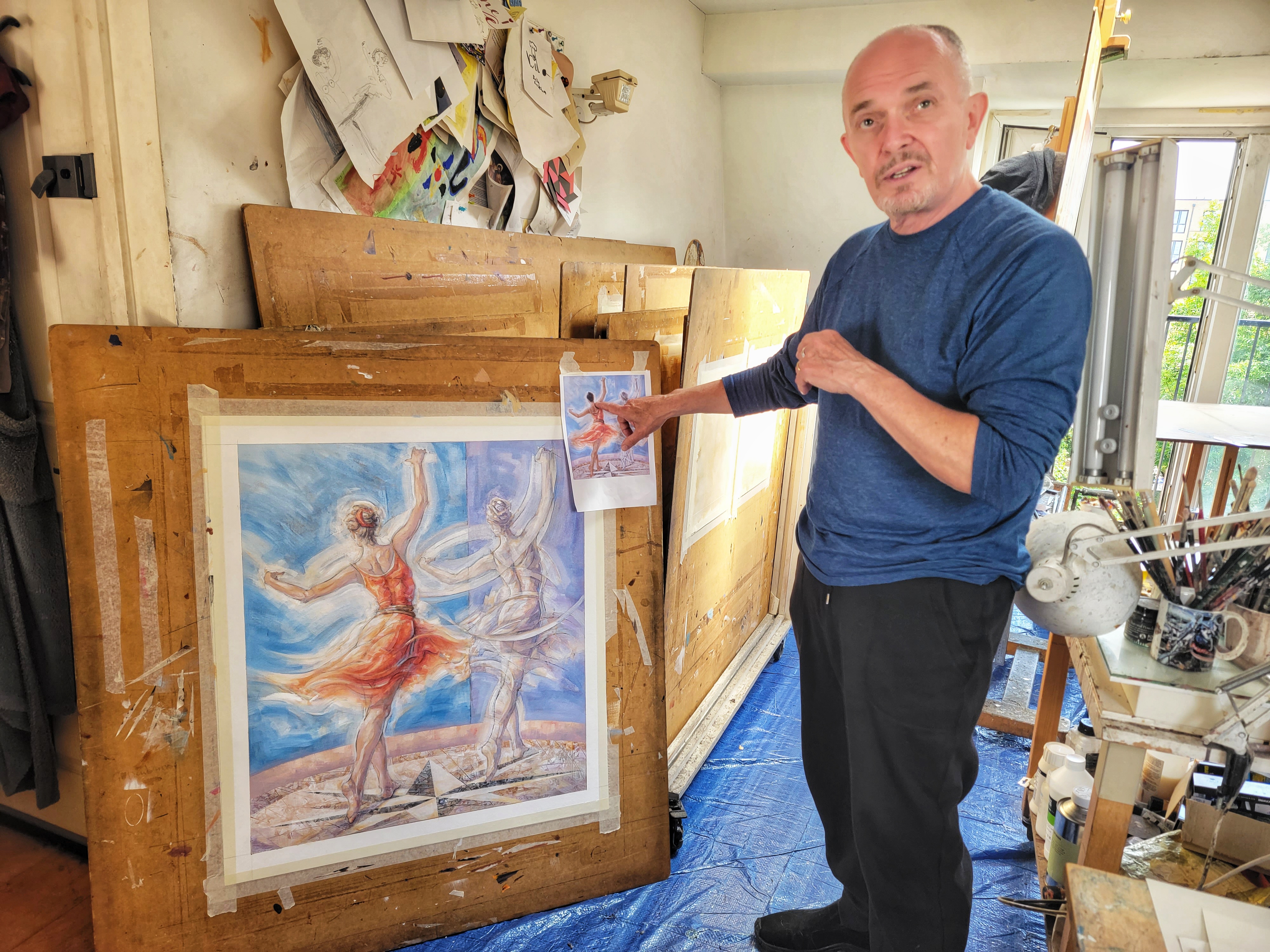 The Pizza Express Jazz Club
Londoners and tourists alike only know Pizza Express as a casual Italian restaurant chain, but Peter Nixon told us that his favorite jazz club wittily bears the same name (and font) as those pizza parlors dotted all over the country. The Pizza Express Jazz Club Soho is an award-winning London music venue that, since 1976, has been where thousands of world-class musicians have performed in an intimate basement setting. It's here where you might see Peter sitting, musing on the drumming of Bill Stewart, or enjoying the wide range of music on offer at the venue, from Wayne Shorter and Miles Davis tributes to Motown Divas and a Sound of Philadelphia revue.
The National Gallery
Peter Nixon's favorite painting hangs in The National Gallery, located in the heart of Central London opposite Trafalgar Square. If you find yourself wandering around, looking at works by Monet, Seurat, Vermeer, Michelangelo, Van Gogh, Rembrandt, and Cézanne, make sure you also peek into Room 29 to see Titian's "Bacchus and Ariadne," and possibly, Peter Nixon himself continuing to admire and study this masterpiece from the early 16th century.
Ronnie Scott's Jazz Club
It's no surprise that when touring London with Peter Nixon, you'll get treated to more than one jazz club. Ronnie Scott's is another basement venue in Soho that, since 1959, has been considered to be the vanguard, if not the Village Vanguard, of Britain. Here you will find some of the most legendary and up-and-coming jazz players, bands, and vocalists performing in a small, cozy setting. Nixon is quick to advise us not to procrastinate on buying those tickets because the main stage shows often sell out fast.
Tate Modern and Tate Britain
Save for special exhibits, all the museums and their main galleries in London are free to the public, making art more accessible to everyone. This is something we at Park West definitely appreciate (all our gallery locations around the country are also free to enter)! Nixon says that the Tate Modern is worth stepping into for the structure alone, noting how beautiful the building itself is, but adds that the Tate Britain is still a great museum, despite being eclipsed by the newer, ultra-modern Tate Modern on the South Bank that has changed the face of viewing art in London, attracting many people who may not necessarily like art…yet!
Dining in London
Peter Nixon has a few favorite restaurants in town, including the River Cafe in West London, which he reserves for special occasions. Closer to home, Peter Nixon calls out Rubio's as a casual, everyday hot spot for fresh pizzas and great breakfasts. At the moment, Nixon's 20-year-old daughter is working there, so he is currently enjoying special discounts on his meals!
If you're interested in collecting the art of Peter Nixon, attend one of our exciting online auctions or contact our gallery consultants at (800) 521-9654 ext. 4 or sales@parkwestgallery.com