Behind the Artist: Graeme Stevenson
The life of prolific Australian artist Graeme Stevenson reads more like a movie hero than a painter: pilot, martial artist, photographer, diver, paramedic, motorcycle enthusiast, and international TV show host.
Born in 1958 in New South Wales, Stevenson has been a professional artist for more than 35 years. Described as a "master artist" by International Artist Magazine, Stevenson entered the art world through a love of wildlife. His unquenchable thirst for adventure and knowledge led him to travel around the world an astonishing 16 times, visiting Africa, India, Japan, Europe, and the United States in search of subjects to paint.
Through his international studies, Stevenson creates mesmerizing paintings that simultaneously depict realistic subjects and enchanting narratives. Along with animals, Stevenson paints fantasy, romantic scenes, and social and political commentaries.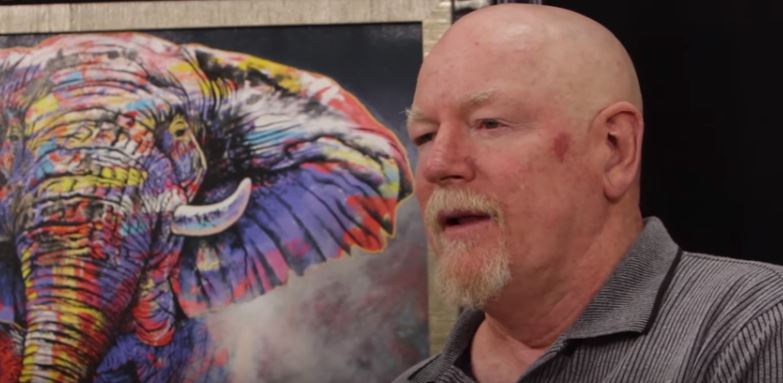 Stevenson is just as dedicated to preserving the arts as he is to mastering them. His wildly popular "Colour In Your Life" TV series, launched in 2011, profiles artists from around the globe, forever capturing their techniques, insights, and personalities on film for future generations to enjoy and learn from. The show is currently on its 15th season and airs in more than 64 countries.
For more insight into Graeme Stevenson, below are three facets that explore the life of this adventuring artist.
Wildlife as Inspiration
Stevenson's ability to capture wildlife with stunning accuracy is the result of studying and photographing the animal kingdom throughout the world. As a teenager, Stevenson bred parrots and took up falconry. When one of his birds would die, Stevenson didn't want the beauty of its colors to disappear, so he studied taxidermy to preserve them, granting him insight into their anatomy.
Stevenson's intimate understanding of the animal kingdom inspired his decision to become a wildlife artist. After earning a pilot's license, Stevenson explored Australia where he photographed, studied, and painted its wildlife.
The culmination of his expertise and travels manifested in "The Atlas of Parrots." The all-encompassing book, published in 1991, features 250 species of parrots, all painted by Stevenson. The labor of love took Stevenson two-and-a-half years and 9,000 hours to complete. Natural history museums in Paris, New York, and London own copies of the book.
Constantly Evolving
Like many great artists before him, Stevenson has evolved his style and mastered multiple mediums. His artistic career began with photorealistic watercolors of wildlife that took hundreds of hours to complete, but his technique has grown into looser and expressive compositions.
Stevenson's technical mastery shines through in each painting, expertly illustrating his subject matter as if lifted from a photo. However, his artwork goes beyond mere replication. The wildlife and figures in his art bear bold, bright swathes of color, as if Stevenson has exposed the primal instincts and energy that lay beneath the skin and feathers.
The artist enjoys the interplay of mathematics with science and nature and often incorporates history, archaeology, genetics, and biology into his art.
"I think styles are about the journey, it's an adventure to be able to put all of that information together," Stevenson says.
Stevenson credits the multitude of artists he has worked with through his "Colour In Your Life" TV series as influencing the shifts in his style.
Graeme Stevenson Honored by Australia for Artistic Contributions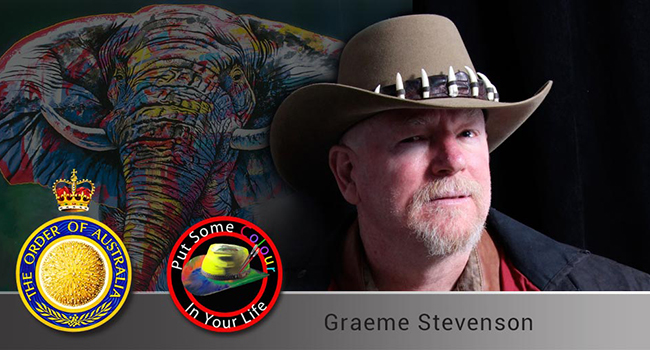 In early 2017, Stevenson received the Medal of Order of Australia, one of the highest honors his country can bestow on a citizen. The award recognizes Stevenson for his contributions to preserving and fostering an interest in art thanks to "Colour In Your Life."
Despite the success of his artistic career and his television show, the artist says it's not about the recognition.
"I'm really honored to be recognized by my country," Stevenson says. "I never started any of this to get awards, I just wanted to do something to help the arts in general and put it back on the plate in front of people."
To add artwork by Stevenson to your collection, register for our exciting live online auctions or contact our gallery consultants at (800) 521-9654 ext. 4 during business hours or sales@parkwestgallery.com after hours.
Follow Park West Gallery and Graeme Stevenson on Instagram!