Yaacov Agam's Famous 'Fire and Water Fountain' Restored
Yaacov Agam's famous "Fire and Water Fountain" in Tel Aviv is once again being celebrated in Israel and by art lovers around the world, following a much-needed restoration.
Constructed in 1986, the kinetic fountain stands in the historical Dizengoff Square, a location often referred to as the Times Square of Tel Aviv.
For years, the fountain was the center of attention, with its mesmerizing jets of water and fire creating an incredible display for visitors to admire.
"The fire and water together in the sculpture recreates the dynamic elements of time and change," explained artist Ron Agam, Yaacov's son.
"The most important element of this artwork is its celebration of life, the most constant thing in life is change and everything is always in movement."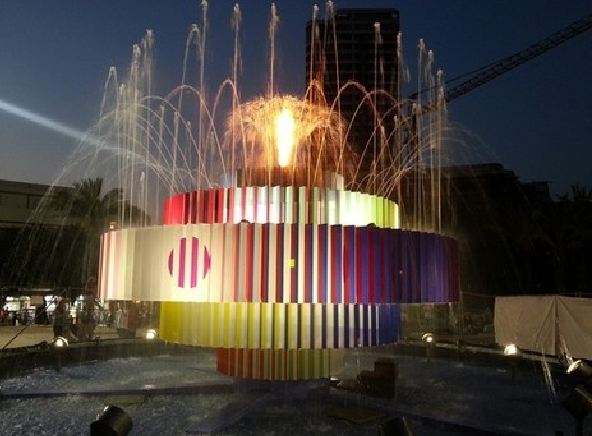 Eventually, the fountain began to deteriorate due to lack of ongoing maintenance by the municipality. Yaacov courageously fought for 10 years to have his work restored to its original beauty, and this summer, the renovated fountain was finally re-opened.
"The result is very beautiful. Here they did the maximum amount of work. The combination of water and fire – there are no words in the world to describe it," said Yaacov.

Fine art by Yaacov Agam is available for purchase through Park West Gallery and its cruise art auctions at sea. Learn more at www.parkwestgallery.com.
---
Related Links: