Warm Up with the Winter Sale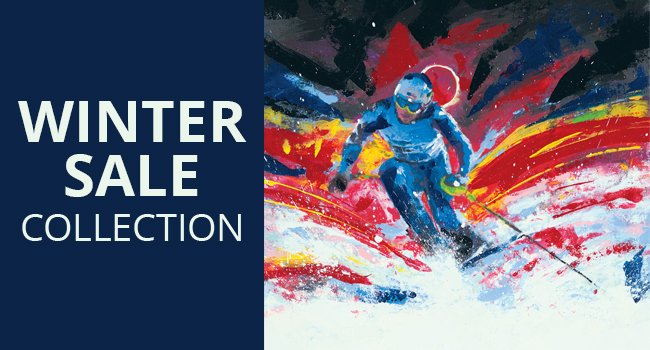 Are the winter blues bringing you down? Are chilly temperatures keeping you inside? Then warm your heart and home with amazing artwork from Park West Gallery's Winter Sale.
Select from over 270 works of art ranging from the Old and Modern Masters to renowned contemporary artists. The collection includes one-of-a-kind paintings, etchings, sculptures, giclées and the latest trend in art: digital multiples on aluminum.
Digital multiples on aluminum are a vibrant addition to any collection. Created through a process known as dye sublimation, these works boast incredible colors and durability not found in traditional mediums like canvas or paper. They are scratch, heat and moisture resistant and are tested to last for 120 years before showing signs of fading.
Artists such as Michael Cheval, Eric Dowdle, Bernard Louedin, Craig Tracy and Tim Yanke employ the medium. Their digital multiples are available through the Winter Sale.
Those seeking other forms of metallic art are sure to enjoy the sale's selection of works by Chris DeRubeis and Patrick Guyton, and of course the colorful bronze sculptures of Nano Lopez.
Need an escape from winter? Dive into tropic waters with Guy Harvey's scenes of marine life; explore the idyllic landscapes of David Najar and Slava Brodinsky; stop to smell the flowers of Marko Mavrovich and Maya Green; or take a stroll in the bright, fall-inspired works of Slava Ilyayev and Daniel Wall.
Those who love winter's beauty will find plenty to choose from as well, including artwork by Dominic Pangborn, Erté, Michael Milkin, Charles Lee, Anatole Krasnyansky and Thomas Kinkade.
Artwork from some of the world's most renowned artists are available as well. With images available from the likes of Rembrandt van Rijn, Pablo Picasso and Yaacov Agam, art lovers can elevate any collection to new heights.
For more information on how to collect works from the Winter Sale and Pino Collection, contact our gallery consultants at (800) 521-9654 ext. 4 or sales@parkwestgallery.com.