2018's Top Cruise News Features Biggest Ship Ever, New Museum at Sea
The cruise ship industry made a big splash in 2018, both figuratively and literally!
Park West is proud to partner with six international cruise lines, each with unique accomplishments over the years, and 2018 was no exception. From setting sail aboard the largest cruise ship in the world to our first-ever floating museum, we're looking back at some of our top cruise industry moments.
Royal Caribbean International's Symphony of the Seas
This year marked the arrival of the largest cruise ship in the world: Royal Caribbean International's Symphony of the Seas. The massive ship weighs 228,081 gross tons and is 1,184 feet long, overtaking its sister ship, Harmony of the Seas.
Symphony of the Seas held its maiden voyage on April 7, 2018 and includes many firsts—such as a two-deck family suite—and fan favorites such as its Ultimate Abyss slide, robotic bartenders, and of course, Park West art auctions at sea.
Celebrity Cruises' Edge and Museum at Sea
In December 2018, Celebrity Cruises unveiled the first-ever ship in its Edge-class, Celebrity Edge. Weighing 130,818 gross tons with a capacity for 2,908 passengers, the ship boasts outward-facing cabins with floor-to-ceiling glass, a revolutionary 90-ton platform that serves as lounge, restaurant, and boarding station, and even staterooms for solo travelers.
Among the sleek new features on this ship is Park West's first-ever interactive touch screen art wall. The digital wall allows passengers to view Park West's massive art collection, watch videos, and learn more about the artists behind the art, all with a few simple taps.
Celebrity Edge also boasts Park West's first-ever Museum at Sea. This amazing collection includes museum-quality masterworks from artists like Pablo Picasso, Salvador Dali, and more, bringing the Park West Museum experience to the world at large.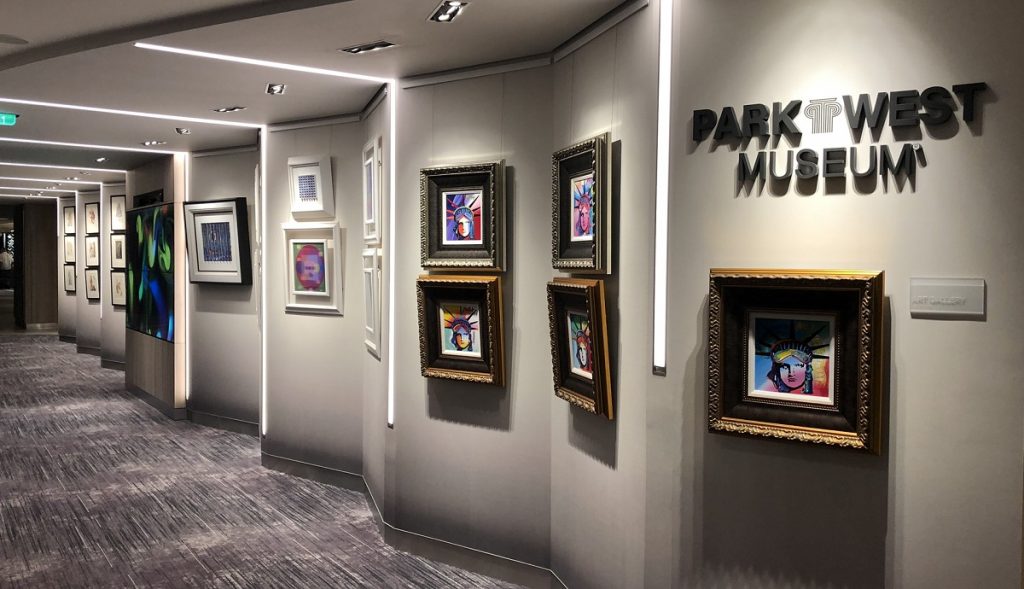 Norwegian Cruise Line's Norwegian Bliss
Norwegian Cruise Line introduced its 16th ship, Norwegian Bliss, on April 21. Norwegian Bliss is the largest ship in the cruise line's fleet, weighing 168,028 gross tons with a passenger capacity of just over 4,000.
The cruise line continued its tradition of painting the massive hulls of its ships. For its biggest vessel yet, Norwegian turned to ocean wildlife artist Wyland. He painted his signature life-sized whales onto the hull along with other colorful sea life.
Norwegian Bliss was built with improved energy efficiency and features amenities like a two-level racing course with electric go-karts, specialty dining, and Broadway shows like "Jersey Boys."
Cruising to Cuba
For those eager to sail to Cuba, 2018 proved to be full of good news. In February, Norwegian Cruise Line announced it is expanding its voyages to Cuba to include seven, nine, and 13-night cruises that dock at Havana. The line's previous cruises only lasted four nights.
In November, Carnival Cruise Line announced its first-ever cruises from New York to Cuba will begin in 2020. The cruises will be nine-day voyages that offer a full-day and overnight call to Havana.
Princess Cruises Ups its Culinary Experiences
Cruise lines are always seeking innovative new dining options, and in 2018, Princess Cruises took it to the next level with its Bon Appetit program.
Guests can experience a deeper understanding of the destinations they visit through authentic culinary events in this new shore excursion program. The events range from exploring local ingredients and cooking styles to demonstrations and tastings from local chefs. Cruisers with Princess can choose from 30 culinary excursions, in countries such as Denmark, Argentina, Spain, and many more.
MSC Cruises Offers 118-Night Cruise
Ever wonder what it would be like to see the whole world during one amazing cruise? MSC Cruises is offering cruise lovers just that chance in 2021.
On December 10, MSC Cruises revealed the details for its upcoming 119-day journey across the globe, which departs on January 5, 2021. The epic cruise will begin in Genoa and Civitavecchia, Italy, Marseille in France, and Barcelona in Spain and takes guests around the world, stopping at 53 destinations in 33 countries.
New Ships Ordered
Multiple cruise lines ordered or began the construction of new ships in 2018. Carnival Cruise Line is setting sail with Carnival Panorama in 2019, a 135,500 gross ton ship that is the third member of the line's Vista-class ships. Carnival also began the construction of Carnival Mardi Gras in 2018, the first in the line's XL-class. The 180,000 gross ton ship will be the first in North America to be powered by liquefied natural gas.
Princess Cruises ordered two new ships that are scheduled to set sail in 2023 and 2025. Both ships are said to be 175,000 gross tons and carry 4,300 passengers each, making them larger than any other ship in Princess' fleet.
Norwegian Cruise Line put in orders for a whopping seven new ships. The unnamed vessels are part of the cruise line's Leonardo-class ships and will be delivered between 2022 and 2025. Each ship is said to weigh 140,000 gross tons and carry 3,300 passengers.
If all of this cruise news is making you excited to set sail, be sure to use our free cruise pre-registration portal to register for your next art auction at sea. Clients who pre-register receive a free gift when visiting their onboard art gallery!