Romero Britto Sculptures Welcome Visitors to NYC
Subscribe to the Park West Gallery Blog for the latest news on all of your favorite artists! And be sure to stay updated by following Park West Gallery on Twitter and joining Park West Gallery on Facebook!
WPLG MIAMI — A monumental Best Buddies Friendship Bear by South Florida artist Romero Britto now sits in a prominent place in New York City.
The Best Buddies Friendship Bear was created by Romero Britto in honor of Best Buddies International, whose mission is to establish a global volunteer movement that creates opportunities for one to one friendships, integrated employment, and leadership development for people with intellectual and developmental disabilities.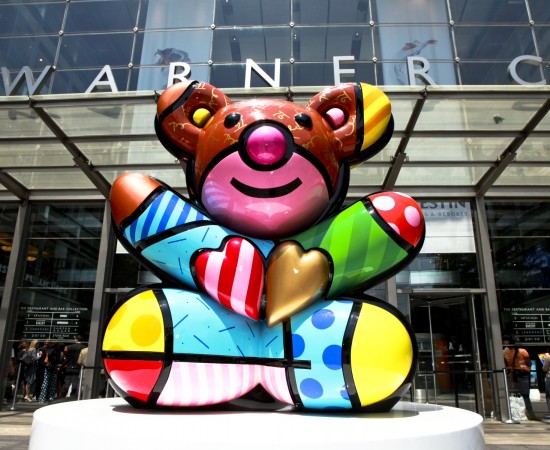 Stephen Ross commissioned a monumental Best Buddies Friendship Bear sculpture for placement front and center at the Time Warner Center on Columbus Circle to share Britto's stunning creation and positive message in one of the most prominent locations in New York City.
In addition, a stunning monumental apple sculpture by Romero Britto, which Eunice Kennedy Shriver donated to John F. Kennedy International airport to welcome millions of travelers around the world to New York, was dedicated on June 8th, 2011.
The sculpture is stationed right in front of the "Welcome to New York" sign in the American Airlines terminal.
Read the full article at WPLG Miami →

---
Artwork by Romero Britto is available for purchase through Park West Gallery and its cruise art auctions at sea. Visit the Park West Gallery Fine Art Collection
Related Links: