Park West Gallery's 2017 Fall Sale Now Online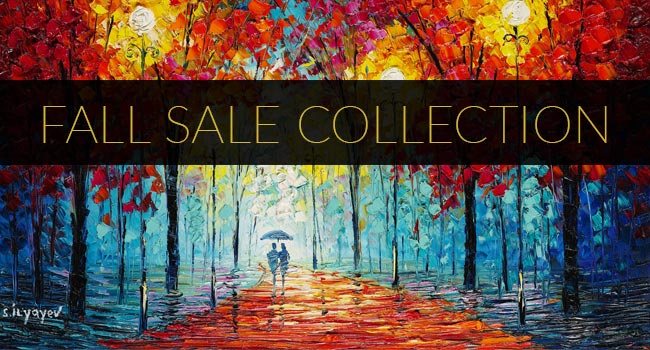 Summer may be cooling down, but the hottest artworks are now available in Park West Gallery's 2017 Fall Sale.
Whether you're intrigued by the work of master artists or the newest contemporary techniques, your dream collection begins with Park West. View the hundreds of works available in our online collection.
The Fall Sale features artworks by dozens of internationally-renowned artists, including Peter Max, Romero Britto, and Michael Godard, as well as artists new to the Park West family such as Alexandre Renoir and Orlando Quevedo.
One of Park West Gallery's newest and most striking mediums is available during the Fall Sale. Known as caldographs, these limited-edition works use the dye sublimation technique to press imagery into wood planks at a molecular level.
Artist Csaba Markus invented the medium in honor of 2017 marking the 500th anniversary of Leonardo da Vinci's "Mona Lisa." Markus sought to incorporate the natural wood grain into his artwork to create an unparalleled visual.
Collectors looking to add a caldograph to their collection can select from a variety of works by Markus, David "Lebo" Le Batard, Gregory Arth, Tim Yanke, Yuval Wolfson, and Charles Lee.
Included in the Fall Sale are new digital multiples on metal by artists Michael Cheval, Craig Tracy, and Alfred "Alex" Gockel. By combining the stunning visuals of these incredible artists with the technology of dye sublimation, viewers are sure to be in awe of these latest creations.
Park West Gallery is offering collectors access to its archive of masterworks during the sale. Along with centuries-old illuminated manuscript pages, collectors can acquire works by some of history's greatest artists, including Rembrandt van Rijn, Joan Miró, Pablo Picasso, and Marc Chagall.
Other mediums available include giclées, mixed media, lithographs, drawings, oil paintings, acrylic paintings, and sculptures from some of Park West Gallery's most sought-after artists.
To acquire works from the Fall Sale, contact our gallery consultants at (800) 521-9654 ext. 4 or (248) 354-2343 (international) during business hours or sales@parkwestgallery.com after hours.