Park West Gallery Artist Marcus Glenn Inspires Philadelphia Art Students
Park West Gallery donates Marcus Glenn works to St. Mary's Interparochial School
PHILADELPHIA, PA – Park West Gallery furthered its national outreach initiative, Park West Gallery CARES, by donating two works by artist Marcus Glenn to St. Mary's Interparochial School in Philadelphia, PA on Monday, January 31. Additionally, Glenn provided an artist talk to St. Mary's eighth grade art students.
In his talk, Glenn discussed how he became an internationally successful artist, his inspiration for creating art, and his various styles and techniques. He then answered questions by the students and took the time to speak with them individually.
Along with Park West Gallery and St. Mary's, the talk and donation were coordinated through Art-Reach, a Philadelphia non-profit whose mission is to bring arts and cultural opportunities to the full range of underserved audiences in the community. Art-Reach and St. Mary's have worked closely together, providing greater access to the arts for St. Mary's students.
"We are overwhelmed by the generosity of Park West Gallery," said Donna Bridy, arts coordinator for St. Mary's. "Marcus Glenn was totally engaging and an inspiration to our students, and they loved it!  We are grateful to him, his wife Yolanda, Cara Huffman from Park West Gallery and Rachel Robbins from Art-Reach for making the visit happen! Thank you for this experience.  We have never had anything like this be offered to our humble school!"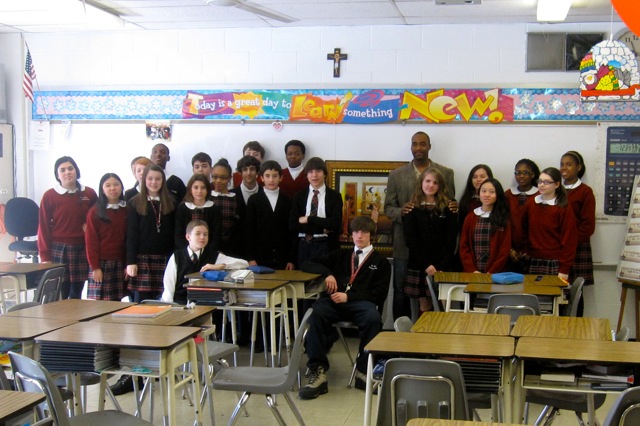 Launched in July, Park West Gallery CARES initially limited its outreach to organizations in the Detroit, MI and Miami, FL areas where Park West Gallery has physical locations. However, due to its monumental success, Park West Gallery has decided to extend the initiative to communities throughout the United States. St. Mary's Interparochial School is one of several organizations that have received similar donations and artist talks provided by Park West Gallery CARES. Other recipients include the Lake Geneva Public Library in Lake Geneva, WI, the Youth Arts Corps in St. Petersburg, FL and the City of Clayton's public art program in Clayton, MO.
"St. Mary's is providing a wonderful education to youth in the Philadelphia community, and we are honored to be able to assist the school, its students, and Art-Reach in this way," said Albert Scaglione, founder and CEO of Park West Gallery. "While our physical locations are in Michigan and Florida, we serve clients all across the country. We are privileged to assist their communities along with our own."
If you know of a nonprofit or charitable organization in your community that would benefit from Park West Gallery CARES, please contact marketing@parkwestgallery.com.