Park West Artists Reflect on their Amelia Island Jazz Festival Experiences
What began 20 years ago in a high school gymnasium has blossomed into one of America's most respected and revered Jazz festivals. Spearheaded once again by founder Les DeMerle, a phenomenal drummer and band leader who has been behind the kit for the likes of Frank Sinatra and Tony Bennett, the headliners of the 2023 Amelia Island Jazz Festival include the 10-time Grammy Award-winning vocal group The Manhattan Transfer, Jazz Flautist Nestor Torres, The Tierney Sutton Band, LPT 10-piece Salsa Orchestra, the 21-piece University of North FL Jazz Ensemble 2, and the funky Spare Rib Six Dixieland Band. And as always, Park West Gallery will be there too, supporting the fabulous charitable endeavors of the festival that provide one young promising high school student with a college scholarship and deliver Jazz at events in many of the area's assisted living facilities.
Each year, the Amelia Island Jazz Festival has an official artist who is tasked with creating an image to represent the event. That artwork is then used for festival posters, printed on the tickets, and appears in many other pieces of marketing materials. This featured artist will also create a work of art that is auctioned off to raise money for the philanthropic arm of the festival. As this is the festival's 20th anniversary and many Park West artists have performed this prestigious role, we recently caught up with a few of them and asked each to reflect on the experience. Here's what Marcus Glenn, Peter Nixon, and Tim Yanke had to say about their Amelia Island Jazz Festival experiences and how important Jazz is to them as human beings and in their artistic process.
"It was an amazing experience to meet so many talented musicians on Amelia Island! With the history that Les DeMerle has in music, being asked to represent the festival visually was an honor, especially as it came on the heels of being the official Grammy Award artist in 2014. Jazz music plays a vital role in my life and my art. I often put jazz on when I'm in my studio creating new works of art. Being from Detroit, Jazz and R&B music played a huge role in my family life growing up, and today, painting musical compositions is my favorite theme to visit as an artist."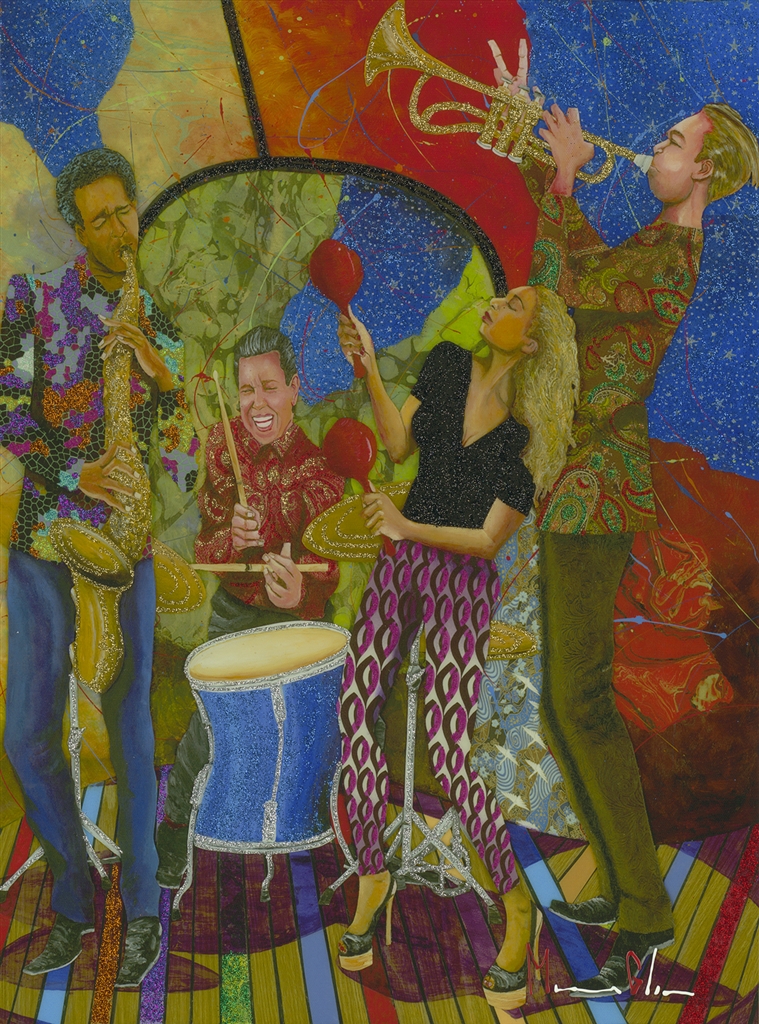 "Being asked to be the Amelia Island Jazz Festival Artist of 2019 was an honor. I'm a big fan of Jazz, so I appreciated the opportunity to meet distinguished musicians like Les and Bonnie DeMerle. The setting of Amelia Island is simply idyllic, with lush vegetation, long silky beaches, small cafés, and restaurants, and spectacular sunsets. I found the location to be a miniature paradise!
In keeping with this warm and sunny place, Les and Bonnie DeMerle's hospitality was thoughtful and caring throughout the event. They made sure I was enjoying the best of the island and getting me to the gigs on time, which meant being driven there by Les himself or, as an extra treat, sharing a ride with Jazz royalty like Delfeayo Marsalis!
This warmth also characterized Les and Bonnie's set in 2019, which, coupled with virtuosic skills from both of them and their backing band, created a dazzling high-energy performance to satisfy any Jazz lover.
When I first did the painting for the Amelia Island Jazz Festival poster, it contained a silhouette of Les on the drums, but then when I saw the two of them together, I had to ask for the return of the painting to put Bonnie in there to complete the picture. Later, they did me the honor of using my painting as a cover for their album, 'Hot Night in Venice.'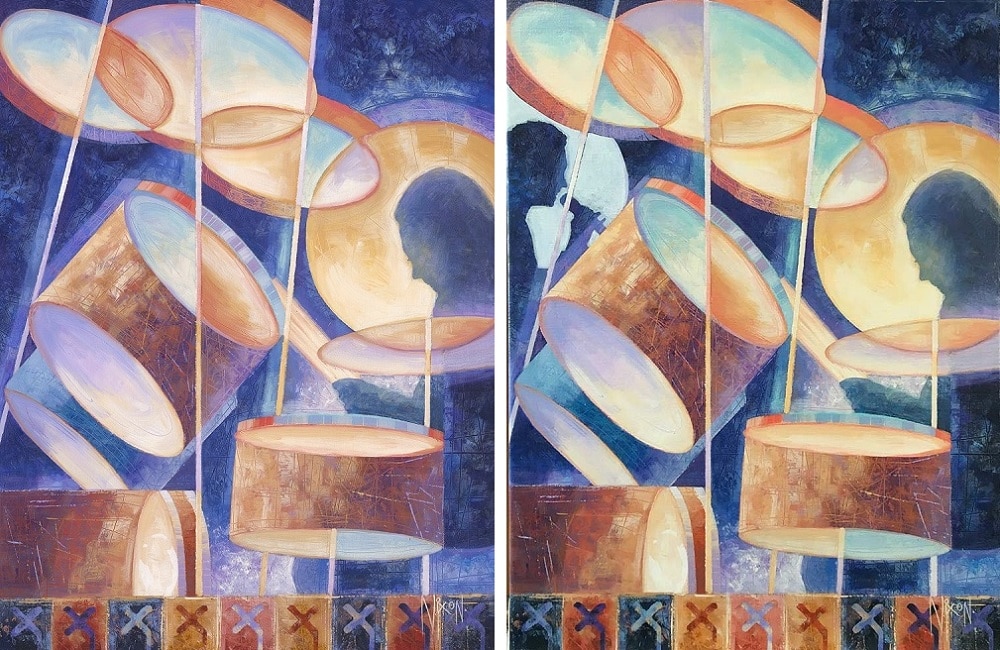 Jazz is an all-consuming interest and a near-obsession of mine. It demands extreme playing skills combined with the wildness and drive of impossible rhythms that seemingly defy human dexterity. As an artist, I am often in awe of other visual artists' skills, but I can usually work out how paintings have been executed. However, it is beyond my comprehension how Jazz musicians think and feel with such haptic speed and nimbleness. Such is the skill of Jazz musicians, the standard safe anchor of a regular rhythm is not needed to keep them on track. Musicians like Les are not there to keep the beat but to explore the drums as another layer in the musical jigsaw puzzle. This needs split-second reactions and interactions, producing a mosaic of interconnecting phrases and riffs that keep the music breathlessly electrifying and in extreme moments of envelope-pushing – one of the components that make Jazz so wildly enjoyable — a feeling that the music is almost out of control. This unpredictable element, like an aural high-wire act, makes it the most exciting musical genre to me."
"When I was asked to create an image that would represent the Amelia Island Jazz Festival, I didn't think twice before saying yes! I have always told my collectors that music may be my most important tool in the entire studio and is instrumental (pun intended) to my entire creative process. I have been told many times that the abstracts in my artwork have the visual look and feel of the music. In fact, music often dictates the direction and composition of the entire painting.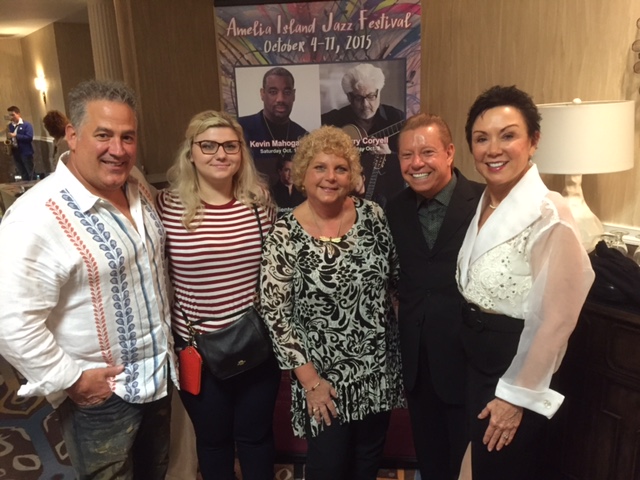 The Amelia Island Jazz Festival and the DeMerles' dedication are the reasons for the continued success of this amazing event — they are the rock stars of jazz!"
And finally, we are pleased to announce that the great Mark Kostabi will be the featured artist in 2023 for the 20th-anniversary celebration on Amelia Island from Oct 1-8. Mark says, "As both a painter and musician, I'm thrilled and honored to be the official artist for this legendary festival," adding that while he is unable to attend in person due to prior commitments in Europe, he will send his best wishes and gratitude to all the great people involved and in attendance this year.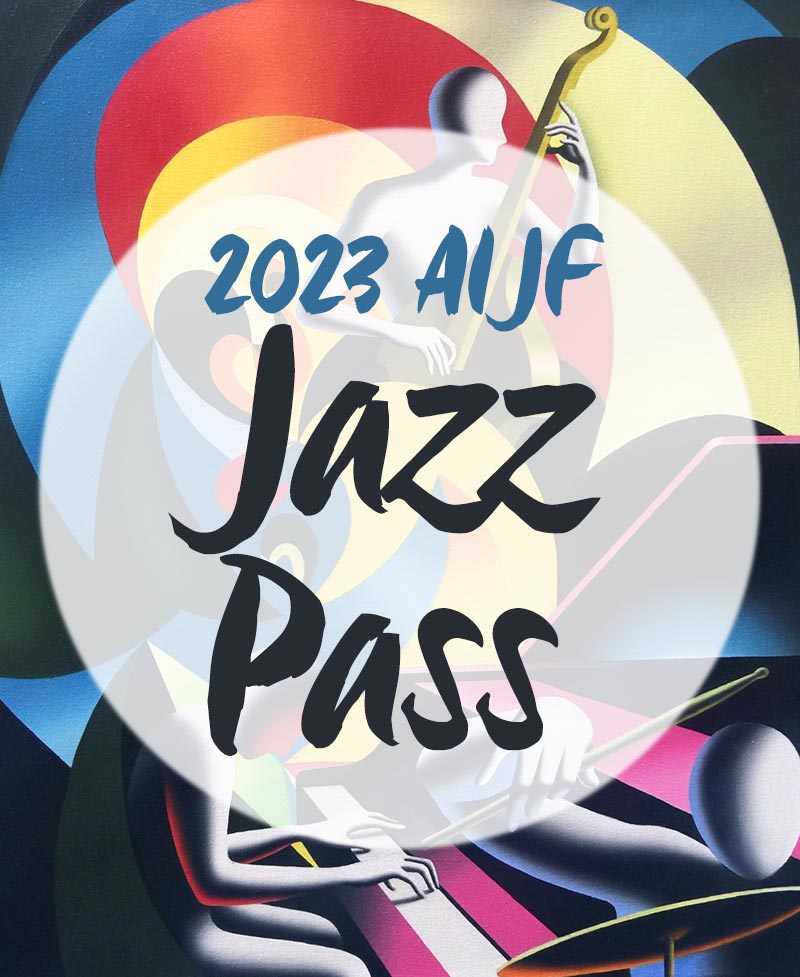 If you love jazz and will be in the Florida area, we can't recommend the event enough. You can buy tickets for all of the 2023 events happening during the 2023 Amelia Island Jazz Festival HERE.