New Park West Artists Break the Mold
Park West Gallery is adding new, dynamic artists with innovative styles to our family of talented artists. Here are four new Park West artists who break the norms to create extraordinary art.
Gregory Arth
Nonconventional artist Gregory Arth constructs his artwork from materials most people think of as a utility: circuit boards. Arth deconstructs old computers to create dynamic, textured artwork using circuit boards. His art explores the beauty of technology by using shapes and textures in an intriguing manner.
"I've been asked many times why I do what I do. I can't say I know exactly," Arth says. "I was born with the need to create things."
Arth began using circuit boards in the early 1990s. His work includes several reoccurring subjects from American flags and cityscapes to "space cowboys" and robots.
Alexandre Renoir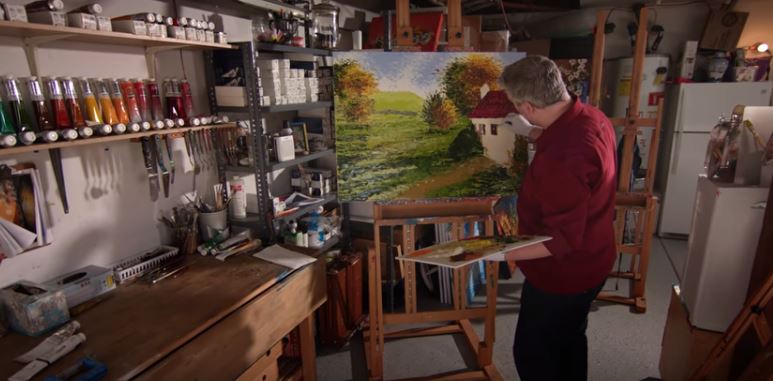 Artist Alexandre Renoir is the great-grandson of influential French Impressionist Pierre-Auguste Renoir. Alexandre is the first artist in his family since his great-grandfather changed the course of art history.
"Park West is full of history, an organization that for many years has brought us beauty in art from all over the world," Alexandre says. "It is my absolute pleasure to be a part of it."
Following in his great-grandfather's footsteps, Alexandre paints in an Impressionist-inspired style using a palette knife and bright colors. Renoir describes his textured method as "sculpting a painting."
Michael Romero
Michael Romero developed a new style of painting he considers a mixture of Impressionism, Abstract Expressionism, and Realism. Using a small metal coil, Romero splatters paint across the canvas in a circular motion. The effect creates a detailed, realistic painting from a distance, but reveals a splattered aesthetic upon closer inspection.
"When seen up close my artwork is a tragedy, there you will find nothing but chaos with a lack of order," Romero says. "As you step back you see colors start to mesh becoming light and shadow. We realize that as time passes we begin to heal from our hardships and find ourselves smiling once again."
As a child, Romero was a naturally gifted artist and spent much of his time drawing. It wasn't until he turned 20 years old that Romero decided to pursue his artistic talents. With no formal training, Romero began painting by watching YouTube tutorials to learn different techniques.
Matt Beyrer
Natural Expressionism artist Matt Beyrer began his Park West career with a sold-out show in Asheville, North Carolina held March 30–April 2. VIP Auctioneer Rob Ducat says the bidding was the most competitive he's seen in his 14 years as an auctioneer.
"Get ready Park West art collectors, we just unveiled a star!" Ducat says.
Beyrer's artwork depicts detailed scenes from nature, as well as still-lifes and portraits through a dream-like lens. To infuse nature's beauty in his artwork, Beyrer paints directly onto planks of wood, incorporating the wood grain into his compositions.
"Every piece is always a mystery until I see the wood and I can visualize a certain scene or image," Beyrer says. "Then I just go from there and let wood guide me."
For information on how to collect artwork from one of Park West's newest artists, contact Park West Gallery at (800) 521-9654 ext. 4 or sales@parkwestgallery.com.