Lebo Explains the Inspirations Behind 5 of His Incredible Creations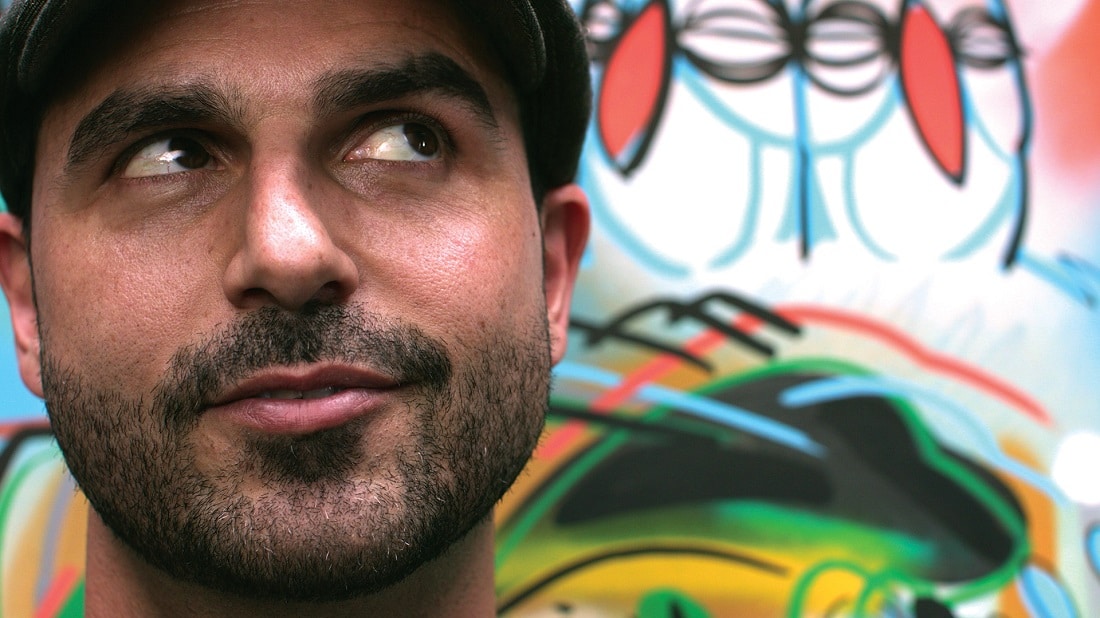 The artwork of David "Lebo" Le Batard is beautiful and evocative, but it's also amazingly dense and packed with hidden meanings.
Lebo is an academic at heart and his regular research into history, philosophy, alchemy, and various other topics informs every work of art he creates.
In a previous article, Lebo was kind enough to share with us the detailed back-stories behind some of his compositions. Our collectors loved those stories so much that we went back to Lebo and asked him to tell us more.
So, due to popular demand, we're proud to present Lebo's personal insights on 5 more of his remarkable compositions.
LET US GIVE THANKS AND PRAISE
LEBO: The idea for this came from the famous paraphrase of the Bible verse: "The lion and the lamb shall lay down together." That's meant to be a sign of peace, and I was intrigued by the idea of a lion at rest, sitting sphinx-like and calm. Above the lion, we see this line of birds, united as one. As the line dips, it bridges the gap between sky and earth, sun and moon. They're all connected together.
I wanted to isolate a simple moment and show how profound those moments are. It's in those moments where we're able to find some equilibrium or achieve some sense of mindfulness. Those are moments we can truly be thankful for.
SOMETHING TO DO SOMETHING TO LOVE SOMETHING TO HOPE FOR
LEBO: In that main vertical, we have the cat as our central protagonist, but the foundation of the painting is really the snail at his feet. Within his shell, in that spiral, we see a Fibonacci Sequence, which evokes alchemy and sacred geometry. Alchemy is a huge inspiration for my work. Snails also represent primordial biology and patience, because of the methodical and slow way they move. The title comes from a Buddhist maxim that illustrates the importance of "something to do, someone to love, and something to hope for."
Above the cat, we see the phrase "Espírito Santo" (Holy Spirit), and there are bursts of alchemical, spiritual energy emerging from its head, with the light radiating through its pineal gland. There's also this subtle play on distance and perspective where, at the top, the sun is exactly the same size as the flowers surrounding the cat.
This work also has several details based on ancient pictorial language and writing—I include these word-like designs and patterns that are meant to emulate the feeling of language in very symbolic, Masonic way.
WITHIN THE SACRED ETERNAL
LEBO: I present this cute puppy as a way to draw my viewers in. It gives the work weight and starts this narrative with my audience. That story is metamorphosis. My art often uses text-driven information and, here, across the work, you can see me call out the four stages of metamorphosis—egg, larvae, chrysalis, and butterfly.
The composition revolves around it in a circular way. It can be read in any direction you want, and I reinforce that with the Fibonacci Sequence in the flower. This design plays off two things. First, the idea of eternal return, promoted by Plato and Pythagoras, which argues the energy of the universe is always in flux, but is recurring and infinite. And, second, the sacred eternal, which argues that the spiritual energy inside of us behaves the same way. We are always changing, but we are eternal. It's about us becoming comfortable with change.
A LIGHT SHINES THROUGH
LEBO: This is almost a study in minimalism. The figure of the owl is more of an icon than anything. It's a totem, a symbol. If I ever created my own comic strip, I could see an owl like this as a central character. Owls are one of the major recurring visual motifs in my works. Owls can see in darkness, so they represent a kind of light in the darkness. The owl allows us to see ourselves in that role—we are the light, we are our own light in the darkness.
Whenever I paint owls, I usually include some kind of wordplay surrounding the concept of "light." And light can be interpreted literally as well as subjectively in many ways, which is an important aspect of my approach—the subjective viewpoint that leads to the dialectic approach.
ON OUR WAY TOWARDS HEAVEN
LEBO: Thanks to Park West, I've had the opportunity to take several cruises through Alaska, and I've found myself so inspired by the art of the Pacific Northwest, particularly from the Haida and the Tlingit.
The tradition of the totem pole got me thinking about vertical storytelling and constructing a narrative from top to bottom. I went for a very minimal composition, which almost borders on the abstract. These stacked owls—they're individuals and they're one singular unit. It speaks to their togetherness and unity as the souls of the figures transmigrate vertically towards heaven.
If you're interested in collecting the art of Lebo, attend one of our exciting online auctions or contact our gallery consultants at (800) 521-9654 ext. 4 or sales@parkwestgallery.com.
Follow Lebo on and Park West Gallery on Instagram
Related Articles