Ilyayev, Max, Renoir, and More Now Available in 2018 Fall Sale

With summer firmly behind us, fall is definitely in the air. Bring the cozy feelings and amazing colors of autumn into your life with amazing new artwork from Park West's 2018 Fall Sale.
Our Fall Sale collection features more than 500 stunning works from more than 77 artists, ranging from legendary masters like Rembrandt van Rijn to contemporary greats like Yaacov Agam, Peter Max, and Thomas Kinkade. You can view the full Fall Sale collection here.
The collection includes giclées, serigraphs, caldographs, and sculptures, all at special pricing. No matter what you're looking for, we have something for everyone.
Looking for something special? Unique works from artists like Pino, Charles Lee, Michael Milkin, Maya Green, and others make a return from previous sales. Remember, these paintings are one of a kind, so once they're gone, they're gone for good!
Or are you interested in owning a piece of art history? If so, then our Fall Sale is your chance to acquire works from some of art history's greatest figures, including Joan Miró, Francisco Goya, and Pierre-Auguste Renoir.
Limited-Time Collections
This is just a small portion of what we're offering during our Fall Sale. Throughout the duration of the sale, we will be featuring limited-time collections from some of our most popular artists, all at special pricing.
These limited-time sales only last for a few weeks, so be sure to snag your favorite works before they're gone. The best way to stay up-to-date on our sales announcements is to follow Park West Gallery on Facebook or to sign up for our newsletter on our homepage.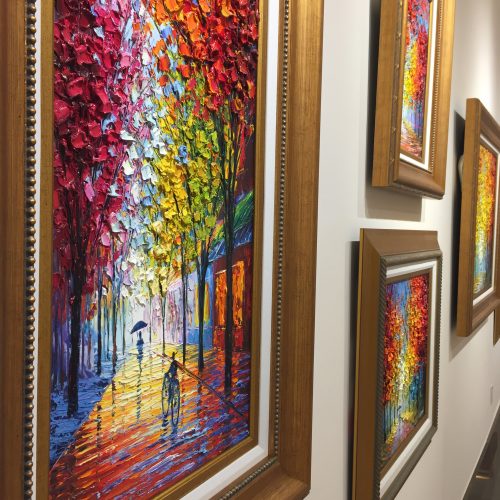 The first artist we're showcasing in the Fall Sale is the incomparable Slava Ilyayev, whose vivid, textured artwork captures the colors and emotions of autumn in a way few artists can. This collection includes an astounding 34 paintings by Ilyayev that are the only ones of their kind in the world.
You'll love our Fall 2018 Collection. Take a look and who knows? You might find your new favorite work of art.
If you're interested in artwork from our Fall Sale Collection or have questions about collecting, be sure to contact our gallery consultants at (800) 521-9654 ext. 4 during business hours or sales@parkwestgallery.com for information on collecting Fall Sale art.