How to Start an Art Collection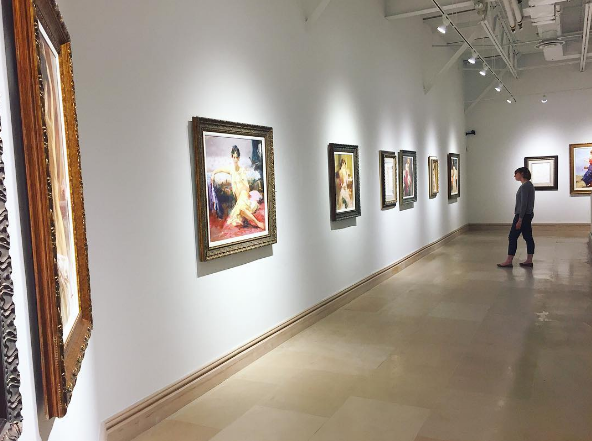 Starting or expanding an art collection can seem like a daunting task. At Park West Gallery, we believe everyone who loves art should be armed with the knowledge they need to create a collection they'll love.
Here are several useful tips to curate your own home gallery:
Find Artists You Love
Many experienced art collectors started their vast collections by first relating to an artist's story. Knowing an artist's past or sympathizing with their passions is one way to instill meaning in the works of art hanging in your home.  Begin your new art collection with artwork from an artist you connect with to lay a solid foundation for your home gallery.
Determine Your Tastes
After finding artists whose stories speak to you, it's time to figure out which styles of artwork speak to you. Do you prefer the bold colors of Daniel Wall or something more relaxing from David Najar? Are you a fan of vivid, photorealistic art like that of Scott Jacobs or spontaneous abstract artwork from Dominic Pangborn? Discover which styles and artists you can't get enough of to grow your new collection.
Step Outside the Norm
While many art collectors gravitate toward a certain style of artwork, an important aspect of being a well-rounded collector is to be willing to try new things. When a work outside your usual taste catches your eye, take a moment to study and appreciate it. An experienced art collector owns works of art from a wide range of artistic talents in a variety of styles.
Know Your Home
One of the easiest ways to become overwhelmed as a new art collector is to question where and how to position new artwork in your home. Instead, familiarize yourself with the ins and outs of your house to figure out which spaces would work best for your new collection. A commonly overlooked hall corner is a great spot fora creative mixture of different-sized artworks, whereas a large wall may be in need of a vibrant canvas painting. Knowing where your new collection can live in your home will help grow your art collection.
Have Fun
There's no true right or wrong way to grow your art collection. If a work of art is appealing to the eye, has a significant meaning from a beloved artist or simply fits perfectly into your home, your art collection will be full of memories to cherish for years to come.
To start or grow your Park West art collection, attend one of our exciting auctions, call our gallery consultants at (800) 521-9654 ext. 4, or email sales@parkwestgallery.com to learn more about collecting artwork with Park West Gallery.