Dominic Pangborn Juries Exhibition at MOCAD
Home is where the heart is, and in this case, home is where the art is.
Park West Gallery artist Dominic Pangborn loaned his expertise to jury "HOME," an exhibition held in his hometown of Detroit until May 11 at the Museum of Contemporary Art Detroit.
The exhibition is comprised of artwork created by members of the Detroit Society of Women Painters and Sculptors. According to the museum's website, the exhibition is focused on the idea of "home" as a physical place, a city, objects within a space, or a person or group of people.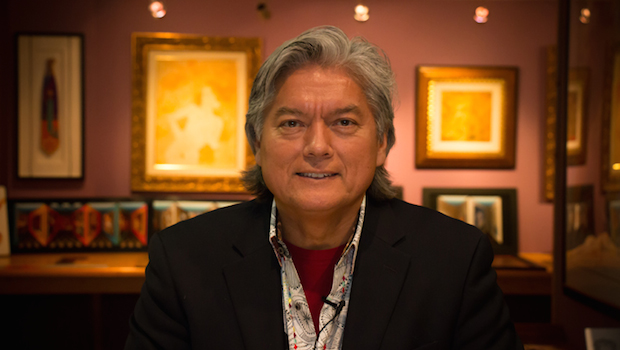 Pangborn selected the works that won first, second and third prize. He admits judging artwork is one of the more difficult challenges he faces as an artist. And awarded other artistic honors at the event. He admits judging artwork is one of the more difficult challenges he faces as an artist.
"I'm honored any time an organization asks me to speak or jury or have me be involved," Pangborn says. "It's always difficult to make a decision on other people's artwork because in our own ways we all have our uniqueness, and there is no such thing as right or wrong in the world of art."
It is fitting for Pangborn to jury a Detroit-based exhibition focusing on the concept of home. He has called Metropolitan Detroit home since the age of 10, and returned to establish a studio in the city after he graduated from the Chicago Academy of Art. The design aesthetics from his Pangborn Design Studios have become synonymous with the Detroit area.
"Detroit's art scene is far greater underground than it is out in public, and I think there are tremendous artists I've had the luck of meeting," Pangborn says.
The exhibition is on display in the "Mobile Homestead," a full-scale replica of artist Mike Kelley's childhood home. Kelley, a Michigan native, worked with found objects, collage, performance and video. He has been called one of the most influential American artists of the past 25 years.
In addition to "HOME," Pangborn has served as a judge for the MI Great Artist contests held by Oakland County and Park West Gallery.
Be sure to view Park West Gallery's Pangborn collection. Contact our gallery consultants at (800) 521-9654 ext. 4 or sales@parkwestgallery.com for more information on collecting Pangborn art.