Take a Behind-the-Scenes Look at Celebrity Edge's Innovative New Art Program
The launch of a new cruise ship is always a special occasion, but the debut of the new Celebrity Edge is something truly unique.
Edge first set sail in December, a breathtaking addition to the luxurious Celebrity Cruises fleet. This game-changing ship has it all—a moveable 13-story-high "Magic Carpet" platform, a rooftop garden, cutting-edge design and entertainment, the best in modern dining and shopping, and so much more.
That "more" includes one of the most innovative art experiences you can have on the high seas, all thanks to Park West Gallery.
Park West is proud to continue its tradition of fine art auctions and seminars on Edge, but they wanted to do something a little "extra" for a ship this impressive. That's why, on Celebrity Edge, you'll find two exciting new Park West innovations—in addition to its already impressive collection of art.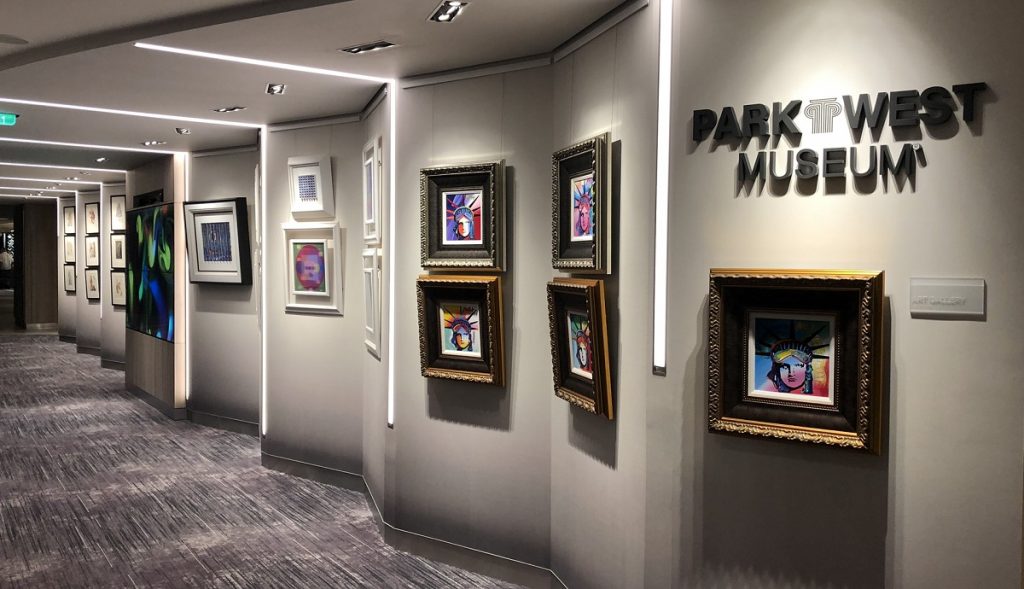 First, Edge is the first cruise ship in the world to feature Park West's interactive touch-screen art wall, an immersive digital experience that allows art lovers to browse the gallery's art and artists at their leisure. Edge is also home to the first Park West Museum at Sea, a museum-quality collection of select masterworks from the company's private collection.
Veteran principal auctioneer Deon van der Merwe is leading Edge's Art Team, but he's not doing it alone. In addition to his experienced gallery team, Deon is also joined by his wife and long-time Park West auctioneer, Jeanne, and their infant son, Marcel—making them the first Park West auctioneer family at sea!
As you can see, Celebrity Edge has a lot of Park West "firsts"! We recently spoke to Deon about the thrills of launching an exciting new art program and everything that Park West collectors can expect from Celebrity Edge.
What is it like starting an art program on a brand-new ship?
Usually, with a brand-new ship, it's exciting because everything is new and the art collection is fresh. In the case of Edge, that excitement is compounded because we are launching initiatives never before seen on the seven seas.
We have the big new interactive digital media wall, where you can view our entire collection—onboard and via our e-gallery—with only the touch of your finger. Plus we also have our museum installation featuring works by some of the greatest artists to ever walk the planet Earth. It's truly a feast for the eyes.
Which artists are you most excited about sharing with Celebrity Edge's guests?
The entire museum collection will move people in ways they can't expect. You might even find yourself doing the "Agam shuffle" in front of one of our highly acclaimed Yaacov Agam works. Agam is one of the pioneers of the kinetic art movement, and we have an exquisite collection from this world-renowned master.
I'm also very impressed by the works of Ron Agam. He was handed the kinetic art movement baton from his father, Yaacov, and he is truly running away with it, celebrating what his father started so many decades ago. I should also say that showing works by Pablo Picasso, arguably the most important artist in modern history, is a big feather in our team's hat.
What is your new favorite thing to do on Celebrity Edge?
Choosing one is like choosing a favorite child. Edge holds so many new delights! Ordering a delicious cocktail in the atrium and taking a stroll through the art gallery is absolutely magical. The ship's Eden Experience gave me goosebumps the first time I saw it. This surrealistic restaurant will open your mind to a brand new reality. Come see for yourself!
Have you had a favorite moment from the inaugural events for Edge?
Standing on the open deck cruising into Fort Lauderdale with helicopters flying overhead, bands playing, crowds on shore welcoming us to our new home port with the media going crazy… that made me realize I am part of something truly special.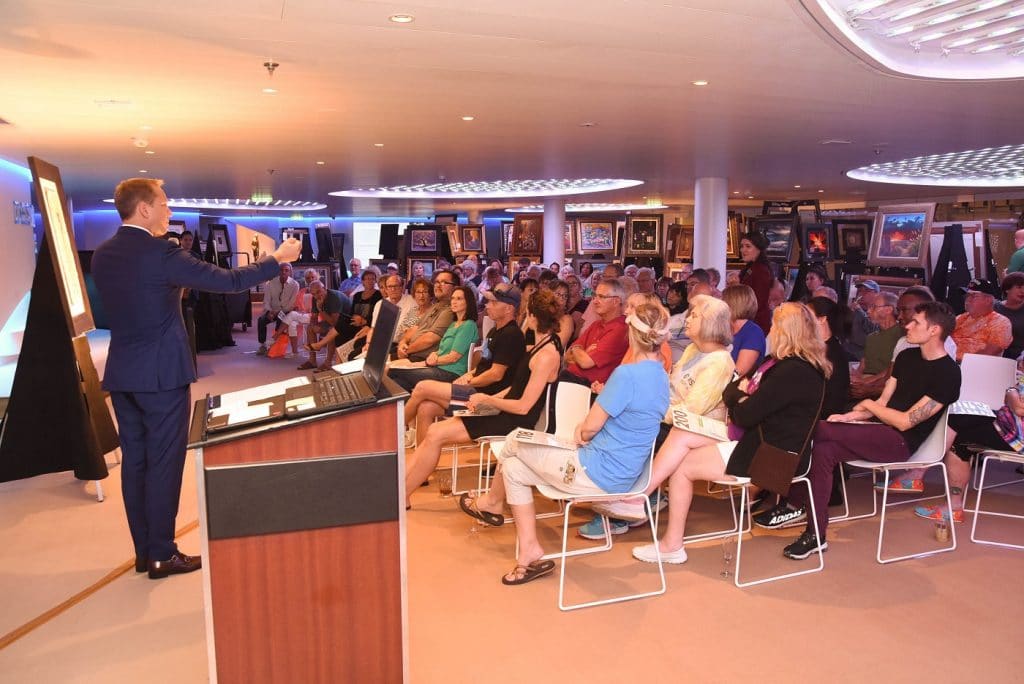 What do Edge guests have to look forward to from their ship's art program?
Scintillating art collecting opportunities coupled with unsurpassed service.
Which Edge port are you most looking forward to visiting?
Probably Key West, but only because I haven't been there in many years. Every port has its own romance.
What differentiates Celebrity Edge from other cruise ships?
Not one dollar has been spared. Edge is a spectacle to behold—around every corner is a new experience waiting to exceed your expectations.
If you're planning to cruise on Celebrity Edge in the future, be sure to register early for your voyage's arts programming using our cruise pre-registration portal! It's easy to use and there will be a complimentary $50 bid credit and a free gift waiting for you when you arrive.
https://youtu.be/qmUigY09lcM