Behind the Artist: Lebo
Inspired by ancient modes of storytelling, comic strip compositions, and the grit of 1970s street art, David (Lebo) Le Batard surrenders his artwork to the sum of history.
The Cuban-American artist is internationally recognized for his unique style—Postmodern Cartoon Expressionism—which harmonizes calligraphy, cartoons, indigenous art, mythology, and modern melody. A scholar and visual storyteller in his own right, he integrates symbols and prophetic turns of phrase into his artwork as a way to parallel antiquity and modernity.
Lebo often speaks toward his allegiance to postmodern philosophy, which asserts that history is continuous. The Miami resident pieces together a myriad of historic and cross-cultural narratives in each of his works, establishing the notion that culture is linked through time, not separated by it.
His artistic style is characterized by gestural lines, condensed fields of color, and an inexplicable graphic edge. By playfully interpreting sentiments of inner peace, mindfulness, and spiritual enlightenment, Lebo's artwork acts as a vehicle for something otherworldly.
Language of Cartoons
One cross-cultural similarity Lebo observes in his artwork is the prevalence of iconography throughout time.  From Incan tapestries and Egyptian hieroglyphics to "Calvin and Hobbes" comics—representation didn't stop at the surface—it delved into the arena of language. To Lebo, the icons of art history and modern cartoons both tell a story.
Growing up, the young artist analyzed the narratives of comic strips and cartoons, and dedicated himself to the practice of ancient calligraphy and cartoon drawing. After graduating from Florida International University in 1995, he began to lecture at the International Museum of Cartoon Art in Boca Raton, Florida on the technical approaches of illustration.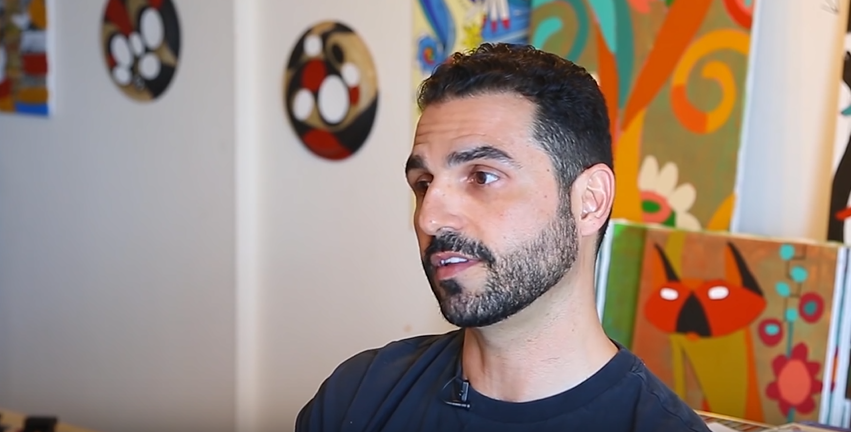 "To me, a cartoonist is somebody who expresses themselves visually and in a very direct manner and a very approachable manner."
By creatively combining studies of lighthearted illustration and cultural relics, Lebo subverts our understanding of high and low culture.
Rhythm of Representation
Lebo further orients his creative compass in relation to music. At the beginning of his artistic career, he searched for a studio space that was more interactive. As a result, the artist began to work alongside his friends during band practice, which harmonically drove the artist's compositions to new heights.
Lebo has participated in a number of live-art performances, painting alongside acts like the Beastie Boys and Willie Nelson. The melodically-inspired artist was chosen to create the official artwork for the Latin Grammy Awards in 2003.
Monumental Murals and Commissions
The enlightened spirit of his artwork can be found in private and publicly sponsored murals around the world—on land and sea. Lebo has created elaborate murals in Miami's Wynwood Art District and American Airlines Arena, Hart Plaza in Detroit, and the Hotel des Artes in San Francisco, among countless others.
He was commissioned by Telemundo Deportes to paint a mural, located in Miami's iconic Wynwood Art District, celebrating the Final Draw for the 2018 FIFA World Cup. His iconic art has also been featured on brands such as Adidas, ESPN, Google, Harley Davidson, Lululemon, Macy's Inc., Microsoft, and Simon & Schuster.
In 2014, Lebo took on his largest project to date—painting the 1,063 foot-long hull of the Norwegian Getaway cruise ship.
Lebo's art is larger than life, both in spirit and (often) execution. His fierce originality has transformed him into one of the most vital artists of the 21st century.
If you're interested in collecting the art of Lebo, contact our gallery consultants at (800) 521-9654 ext. 4 or at sales@parkwestgallery.com.
LEARN MORE ABOUT LEBO: