Behind the Artist: Joan Miró
Joan Miró defied the art world with groundbreaking artwork that pushed the boundaries of abstraction into its current form and paved the way for modern art.
Intrigued by the artists gathering in Paris, Miró moved to the City of Lights in 1921. The Spanish artist crossed paths with other artists such as Pablo Picasso who were defining Surrealism and Cubism. Miró aligned himself with the proponents of the Surrealist movement in 1924.
Despite the Surrealism connection, Miró rejected any all-encompassing definition of his work during his lifetime. He instead sought to challenge traditional bourgeois art with an "assassination of painting" that defied categorization.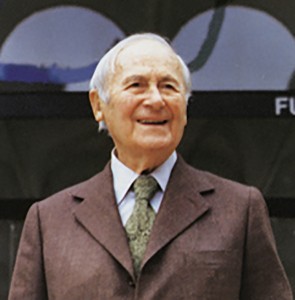 Miró created a unique style inspired by the artwork of children, Catalan folk art, and the subconscious mind. In doing so, he disrupted the visual elements of established painting. As a testament to his abilities, works by Miró are permanently displayed at the Tate Modern, the National Gallery of Art, and the Museum of Modern Art, among countless others.
Miró's talents spanned all mediums, exemplified by his masterful skill in painting, printmaking, sculpture, and murals. He created an astounding body of work, including 2,000 oil paintings, 500 sculptures, and 400 ceramic objects. Miró was also one of the most prolific creators of original lithographs and etchings.
Below are three aspects of Miró's art demonstrating why André Breton, the founder of Surrealism, considered Miró "the most Surrealist of us all."
Micro and Macro Inspiration
Miró evoked cellular forms and particles within his paintings. By drawing upon the microscopic reality within all of us, Miró draws attention to the minuscule elements of our identity.
On the opposite end of the spectrum, Miró abstractly conveyed the expansive cosmos. On occasion, Miró included both cellular and cosmic forms in one artwork. Viewers are left pondering the universe within themselves and the universe that contains them. The contrast calls to mind the factor of control–how do "inner" things differ and align with "outer" things?
Miró's surreal style also lends itself to open interpretation. Where one person may see a mythical creature amidst the shapes, another sees a person or a building.
Child-like Wonder
At first glance, a typical response to Miró's artwork is, "my kid could paint this."
While comparing a professional artist's artwork to a child's may seem like a criticism, it reflects what Miró aimed to accomplish. The artist sought to re-create childlike wonderment and expression in his art. Bright colors, playful shapes, and loose compositions celebrate life and imagination in Miró's art. Those who can observe art and life with humility and simplicity attest to Miró's genius.
At the age of 67, Miró said: "The older I get and the more I master the medium, the more I return to my earliest experiences. I think that at the end of my life I will recover all the force of my childhood."
Surrealist Storytelling
Literature played an important role in Miró's career. He created illustrations for more than 250 books. To Miró, there was no difference between painting and poetry.
"For me, a painting must give off sparks. It must dazzle like the beauty of a woman or a poem," Miró said.
A fine example of Miró's literary-inspired art is his series "Le Lézard aux Plumes d'Or" (The Lizard with Golden Feathers). The series of lithographs is based on a poem written by Miró. In lieu of depicting the actions in the poem, Miró illustrates the imagery the poem stimulated in his mind.
The Lézard series was commissioned by art publisher Louis Broder, who collaborated with artists such as Pablo Picasso, Georges Braque, and André Masson to create artistic interpretations of literature and music.
For more information about Miró or to add a piece of art history to your collection, attend one of our online auctions or contact our gallery consultants at (800) 521-9654 ext. 4 or sales@parkwestgallery.com.
Follow Park West Gallery on social media