Auctioneer Spotlight: Lucy Orbell
Many Park West collectors develop lasting friendships with our art teams, underscoring our 49-year reputation of connecting people from all walks of life with artwork they love.
Here's a chance to get to know one Park West auctioneer more as she shares some of her favorite client memories, travel adventures, and auction moments.
Since beginning her career with Park West in 2014, Lucy Orbell has collected more memories than she can count. When Lucy isn't absorbing the spirit of a new country, she's inspiring cruise guests to embrace the world of art.
Encompassing the best characteristics of an onboard art auctioneer—positivity, open-mindedness, and drive—Lucy is looking ahead to many more exciting contracts at sea.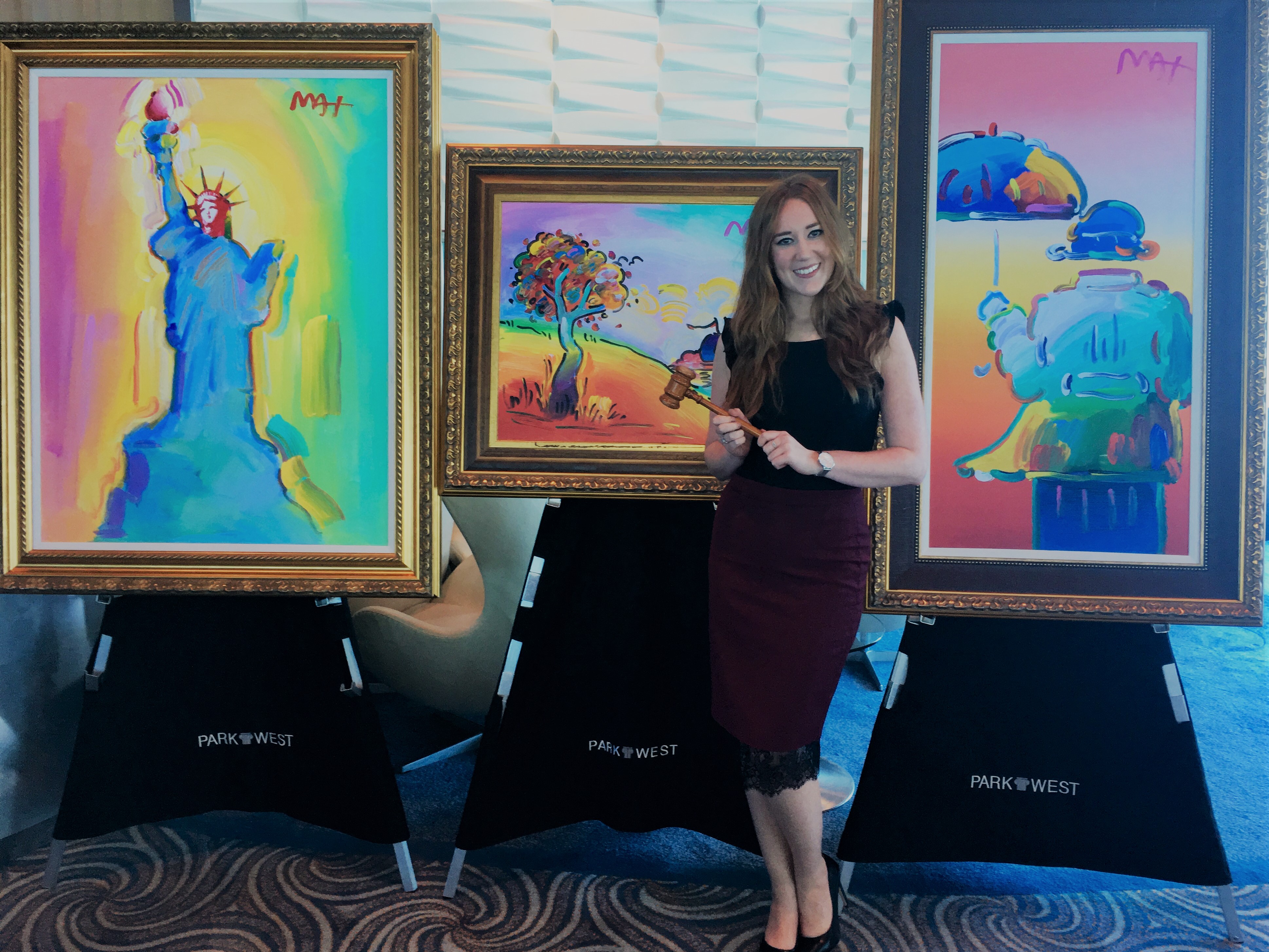 Previous ships as auctioneer: Carnival Fascination, Royal Caribbean Radiance of the Seas, Holland America (HAL) Noordam, HAL Koningsdam, HAL Eurodam, Celebrity (CEL) Reflection, CEL Solstice
Current ship: CEL Solstice
Where is your hometown?
Lucy: Just outside London, England.
When did you start working as an international art auctioneer on cruise ships?
Lucy: I started my career alongside Park West in September 2014. I have always had a passion for the arts and even committed myself to a degree in fine art from Nottingham Trent University in England. I love meeting new people and public speaking, so when I came across the opportunity to join Park West it seemed perfect. Three years later and I'm still enjoying every day! Working aboard a cruise ship is so unique—it allows me to constantly learn, travel, and be exposed to new experiences. No day is the same.
Who is your favorite Park West artist and why?  
Lucy: I appreciate something in every work of art, whether it is the aesthetic, the technique, or the emotion the work evokes. In terms of contemporary art, Michael Milkin is my favorite. The texture he captures by layering on paint is dreamlike—it transports me to another place. My favorite master, on the other hand, is Joan Miró. His biomorphic imagery engages every viewer in a different way. His work, in my opinion, is the purest form of Surrealism.
What is your favorite client memory?
Lucy: This is the most difficult question. It would be impossible to note one particular moment or person here—I instantly think of over 20 clients to include! The collectors I have had the pleasure of assisting consistently surprise and inspire me, with not only their artistic choices, but also their life stories. This is the best part of my job—learning about and connecting with people.
Out of all the places you've traveled, where is your favorite port?
Lucy: I feel very grateful to have traveled so extensively—from the hustle and bustle of Istanbul to the lusciousness of Bora Bora and plenty in-between. Above all, my favorite place is Alaska. You simply cannot match the serenity and majesty of Glacier Bay on a sunny day. Other favorites include Israel, New Zealand, and Maui.
What does life look like when you're home on vacation?
Lucy:  On my vacations I enjoy relaxing at home and catching up with old friends. This upcoming vacation will be extra special for me, as I am becoming an aunt for the first time. I'm so excited. I am very lucky to live on the outskirts of London—I love to go see theatre shows on the West End, visit art exhibitions, and shop too much on Oxford Street.
Please tell us about your experience being an auctioneer aboard the Celebrity Solstice.
Lucy: The Solstice is an extremely elegant ship and has some unique features, like a glass-blowing studio and an authentic grass lawn. It has one of the biggest and best art galleries at sea and the entire ship has amazing energy. We sail out of Sydney Harbor—so breathtaking! I feel very grateful to be here.
For the latest art and auctioneer news, follow Park West Gallery on Facebook, Twitter, and Instagram.
Interested in learning more about starting a career hosting art auctions on cruise ships? Visit Art Auctions Abroad for more details.
Learn more about some of Park West's world-class auctioneers: