Artist Q&A: Scott Jacobs Answers 10 Revealing Questions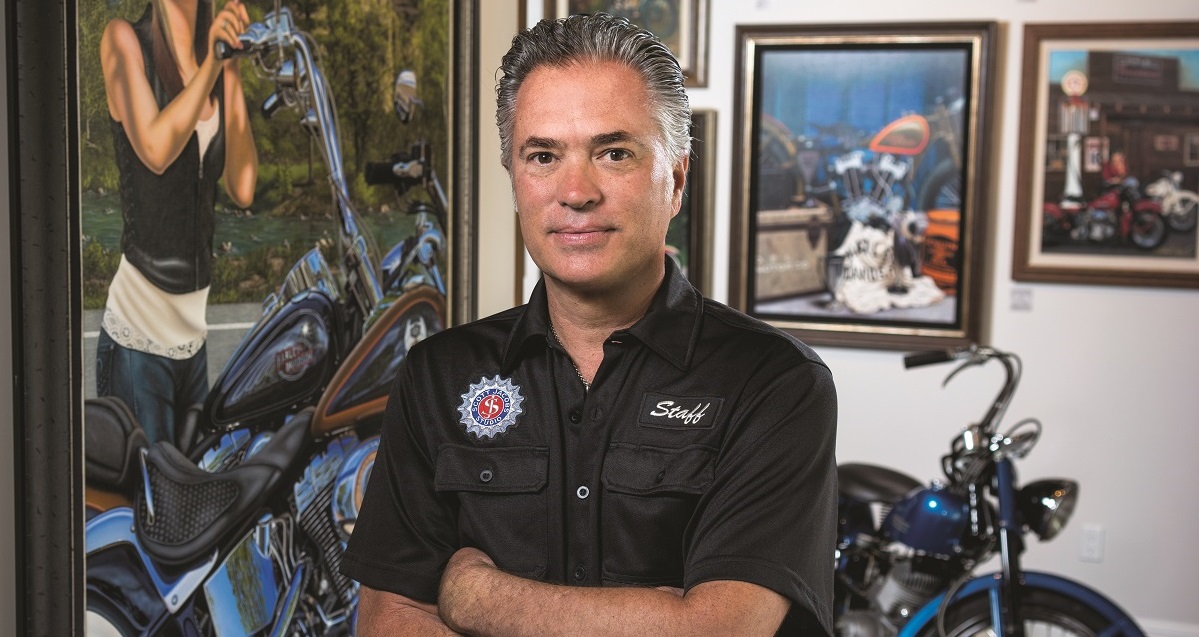 Scott Jacobs is an artist who definitely knows how to keep it real.
Working in art since he was 19 years old, Jacobs has become world famous for his amazing photorealistic style. In fact, his lifelike paintings became so popular that the Harley-Davidson Motor Company selected Jacobs as its first-ever officially licensed artist.
Today, the down-to-earth Jacobs and his family own their own studio in Deadwood, South Dakota, and he continues to attract fans around the globe.
Want to get to know the man behind the motorcycle? Read our exclusive Q&A with the great Scott Jacobs!
1). When did you first realize you wanted to become an artist?
I first realized I wanted to be an artist when I was in 8th grade. My teacher asked if I could start doing illustrations for the school newspaper each week.
2). What inspires your art?
Everyday life inspires me—whether it's riding a motorcycle with my friends and family, enjoying a nice glass of wine, or admiring nature's beauty. The memories I take from everyday life, I put on canvas.
3). Which artists have played a role in influencing your style?
Norman Rockwell for the way his paintings told a story. He didn't need an explanation; the painting said everything you needed to know.
Maxfield Parrish for the way he glazed his pieces and his use of color.
Doug Webb for his crazy detail. He taught me to be patient because I didn't have that when I first started.
4). What draws you to photorealism more than other art styles?
It's the most challenging, and I have to be challenged as an artist.
5). You've painted for many well-known companies and brands, including Harley-Davidson and Corvette. What is one of your favorite projects you've worked on?
My favorite project has to be what I created in 2003 for the 100th Anniversary of Harley-Davidson. I knew that my painting would end up in the company's museum in Milwaukee, so I had to make sure it was among my best creations.
They asked me to show the transformation of some of the most iconic Harley-Davidson logos, engines, and tank shapes over the years. The motorcycles in "100 Great Years" were chosen by the heads of the Motor Company and pulled from their archives to be photographed in private.
It was one of the most time-consuming paintings I've ever done and it's still one of my favorites, even after 15 years.
6). What do you want collectors to take away from your art?
I want my collectors to feel the passion and time that went into each of my paintings. I want them to know that they can come within inches of the canvas and see that the detail isn't lost.
7). You were able to return to painting after recovering from a serious motorcycle accident in 2016. Would you say your style or approach to art has changed since then?
Since my recovery, my mobility has diminished by 40 to 50 percent, so my paintings have shrunken in size. It makes it easier for me to navigate across the canvas. I also can't paint for more than a couple hours at a time. Some days, which are rare and painful, I can paint up to five hours.
8). What do you enjoy doing when you're not painting?
I enjoy playing drums, riding motorcycles, and ATV-ing.
9). Do you have a favorite color?
My favorite colors are blue and black.
10). In addition to painting, you're also an accomplished drummer. Who are some of the famous musicians you've played with, and who would you love to play alongside if you had the chance?
I've played with Clarence Clemons from Bruce Springsteen's E-Street Band, Nicko McBrain of Iron Maiden, Dusty Hill of ZZ Top, Gary Puckett and the Union Gap, Jim Messina, and soon I'll play with Eddie Money.
Tico Torres, the drummer for Bon Jovi, and I have been friends for decades, but I've never played with them, so they'd be who I'd like to play with.
The drummer I'm currently most inspired by is Todd Sucherman of Styx. He's so detailed in the way he plays. He's like the photorealist of drumming.
If you're interested in collecting the art of Scott Jacobs, contact our gallery consultants at (800) 521-9654 ext. 4 or at sales@parkwestgallery.com after hours.
LEARN MORE ABOUT SCOTT JACOBS: