Art News: Museum Texting Art, Dalí Exhumation Scheduled, Pissarro Restitution Revived
The art world is full of fascinating exhibitions, intriguing discoveries, and moments that shape history. Here are some of the latest news items making art headlines.
SFMOMA Responds to Texts With Artwork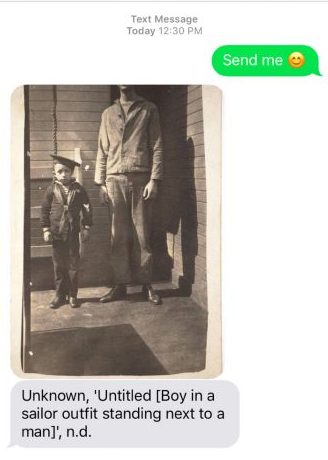 The San Francisco Museum of Modern Art is exhibiting its vast collection through the power of text messages.
Hyperallergic has the details on how the program works. Called "Send Me SFMOMA," the museum encourages people to send a text to the number 572-51 with the words "send me" followed by a keyword. These keywords can include subjects, moods, colors, or even emojis. Depending on what is sent, the museum replies with a corresponding work of art along with the artwork's title, artist, and date.
The campaign is powered by the SFMOMA's Collection API, which contains data on all of the 35,000-plus artworks in the museum's collection. If more than one artwork corresponds with the keyword, the number sends a random choice.
Salvador Dalí to be Exhumed on July 20
The exhumation of Surrealist artist Salvador Dalí for a paternity test has been scheduled for July 20.
The Local Spain reports the date was set by a Spanish judge in order to settle a paternity suit from Maria Pilar Abel, who claims to be the daughter of Dalí. Pilar Abel, 61, says her mother had an affair with Dalí while working in Port Lligat.
Dalí's remains are located in the Dalí Theatre-Museum in his hometown of Figueres. Experts will take DNA samples directly from the grave to send to Madrid. The Dali Foundation is seeking to avoid the July 20 exhumation through the appeal process.
Dalí, who died in 1989, had no children with his wife, Gala. He left his estate to the Spanish state.
Pissarro Painting Looted by Nazis Could Return to Family
A federal appeals court in California reversed a 2015 dismissal that could lead to the return of a Camille Pissarro painting to the descendants of Jewish immigrants.
According to the Art Newspaper, the great-grandchildren of Lilly Cassirer Neubauer claim their ancestor was forced to sell Pissarro's "Rue Saint-Honoré, dans l'après-midi. Effet de pluie" in 1939 in order to flee Germany. The family has attempted to recover the painting since 2001.
The painting was reportedly sold at a Nazi-government auction and changed hands multiple times. One of its last owners was Baron Hans Heinrich Thyssen-Bornemisza, who in 1993 sold it and other artworks to Spain, which exhibited the Pissarro at the Villahermosa Palace in Madrid.
The Thyssen-Bornemisza Collection Foundation could be charged as an accomplice to the theft if the foundation knowingly acquired a stolen artwork.  The court believes the great-grandchildren of Neubauer should have the opportunity to prove their rightful ownership.
Follow Park West Gallery on Facebook, Twitter, Instagram, and Pinterest for information on art news, events, and sales.