Integrating art into wellness care – a VIP profile
Like every work of art, each collector has a unique story. Some of our VIP collectors have graciously shared with us their personal experiences and how collecting art has enriched their lives.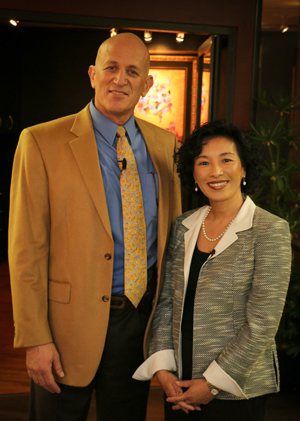 Doctors Alice Pien-Milgrom and Asher Milgrom don't consider themselves art collectors. They buy art that they love – and they share that love with their patients.
The pair encountered Park West years ago on their very first cruise together and have been happily collecting ever since. "Neither of us had ever cruised before," Asher said. "I remember wandering into the art auction thinking, 'This really isn't for us.' But I couldn't avoid the champagne," he joked.
Asher and Alice stood at the back of the room to see how the auction worked, not really knowing anything about it. "I didn't want to get suckered into scratching my nose and buying something," he laughed. "But then we saw how informal it was and how much fun the people were having." They kept going back, and by the third or fourth time they wandered through, they finally sat down. "But it was just to put a toe in the water," he said.
They talked to some of the people who worked the show. "The auctioneer was so knowledgeable," Asher said. "It was fascinating to listen to her." As she explained the history behind the art, Asher and Alice appreciated the artists and their work more and more. By the end of the cruise, they bought three or four lithographs by Linda le Kinff and a couple of Salvador Dali prints.
When the Milgroms decided to open their medical practice – AMA Skincare – it was an easy decision to bring their art with them. They practice integrative holistic medicine for the skin at offices in Irvine and Beverly Hills, Ca. We visited their Irvine office and were greeted with artwork by Leslie Lew, Csaba Markus, Anatole Krasnayansky, Linda Le Kinff, Nano Lopez, Charles Bragg, Peter Max and more.
"Being a wellness medical practice, we want patients to feel well and beautiful. In my previous practice, it was a sterile and cold environment," Alice says. "We want people to feel welcomed and loved and cared for."
"Patients walk in and say 'Wow, this isn't like any medical office I've been in before,'" Asher said.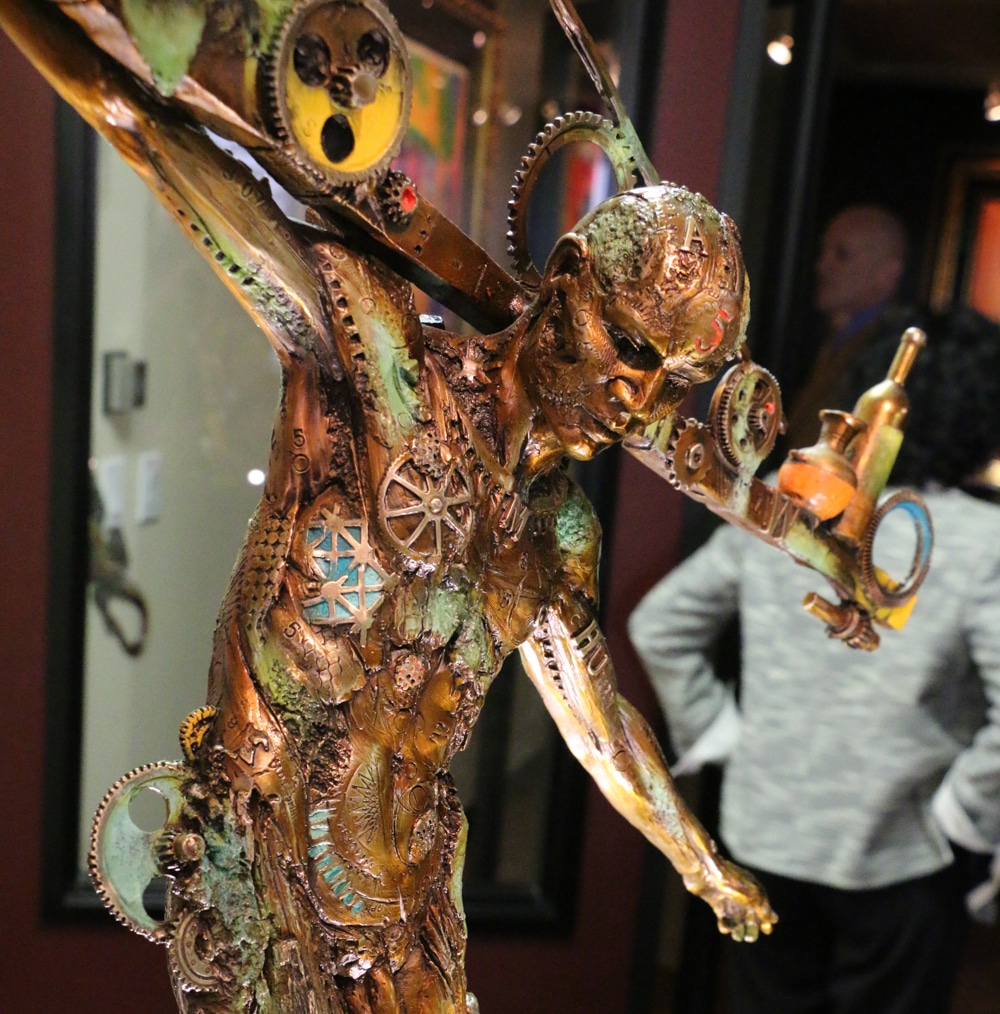 They started the practice in 1999 when lasers were just emerging on the market. Their practice combines alternative medicine and the best of modern and western technology. Alice felt burned out from years of practicing emergency pediatric medicine and said she wanted to focus on wellness and preventive medicine and to create an environment that people would want to come visit. The couple has four children, which also motivated the move to a less stressful practice.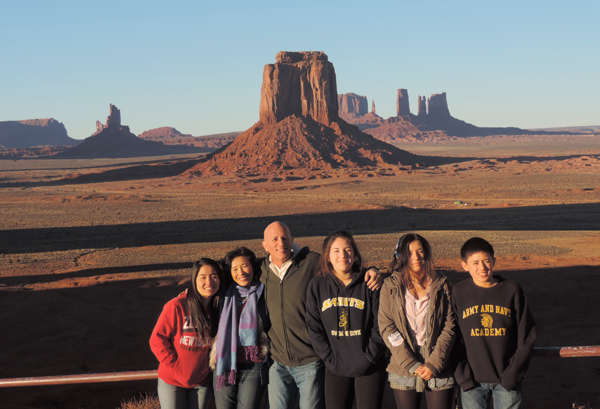 Alice sees the patients, and Asher is the chief scientist, conducting research and developing new protocols. His job is to push the envelope of the science behind the medicine they practice, he said.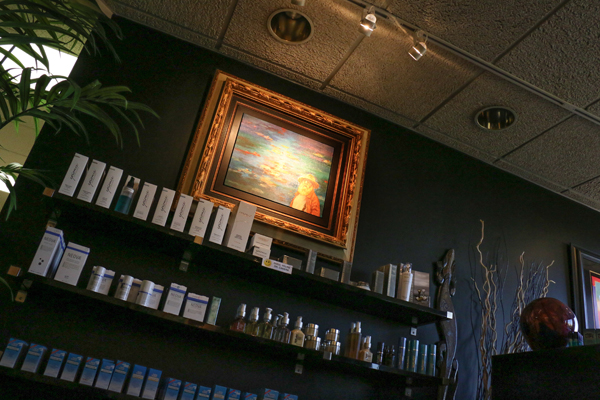 "We wanted a practice that would be joyous," Asher said. He feels that joy each day when he walks in the door. Although it wasn't their intention to turn their office into a gallery of sorts, with all the art the Milgroms have collected over the years, that's what they've done.
"It's a visually exciting and a nourishing environment," said Asher.
The art at their office is an important element in creating a wellness-centered environment, Alice said. "Fine art for me – the visual part – is very stimulating. It's very calming."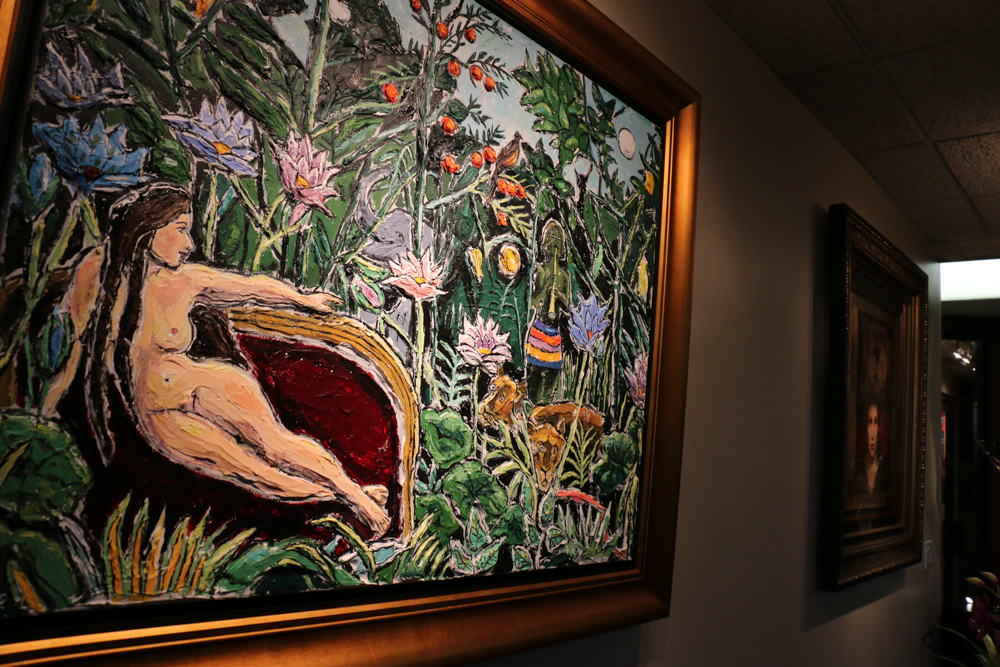 When we visited, Asher was heading to Belize the next day to meet with the country's prime minister and minister of medicine. Along with a number US doctors, the Milgroms are developing a Belizian clinic that will be a destination facility for medical tourism as well as offer urgent care and medical training for the local population in Belize, where there is currently very little established medical care.
Since the Milgroms feel that people trusting them with their health is a privilege, they share their medical expertise with those who don't have access to medical care. Asher – who is a pilot – said one of the first things they did together as a married couple was offer their skills to the "Flying Sams," a group of good samaritans from all walks of life who take their expertise to help the poor in Mexico. They've also made mission trips to Vietnam and the Island of Grenada, among other places, and have involved their children in this good work.
The Milgroms also involve their children when it comes to collecting art. They've taken them to VIP auctions and art cruises. Their 15-year-old daughter is an aspiring artist, and through Park West VIP events, she's been able to meet many artists and even make some studio visits. She finds that very exciting and it feeds her passion for painting, Asher said.
Alice says being part of the Park West family has been very heartwarming on many levels. It's nice to meet new people and to see many familiar faces at VIP events – it's like reuniting with old friends, she said.
The Milgroms admit that because of their experience and enthusiasm for art, some of their friends have been bitten by the art-collecting bug. "Apparently it's contagious," said Asher. "And we don't have a cure for it."