7 Quick Facts to Make You an Art Expert
Park West Gallery's mission is to provide individuals with the confidence, knowledge, and means to appreciate fine art.
We also understand that art is a complex, diverse, and subjective subject, one which some dedicate years to becoming connoisseurs and experts. We're here to tell you that you don't need a background in art to enjoy it, but having some base knowledge can go a long way.
For a better understanding of the art world, here are some fun, easy-to-digest facts about its history.
1. Many Important Artists Are Old Masters
The term Old Master can refer to a skilled artist who worked—primarily in Europe—from roughly 1300 to 1830. The term "master work" may also apply to a work of art by one of these artists.
Even those unfamiliar with the art world may know some of the Old Masters, such as Leonardo da Vinci, Rembrandt van Rijn, Michelangelo, Caravaggio, and Albrecht Durer. Spanish artist Francisco Goya is considered the last of the Old Masters.
2. Modern Art and Contemporary Art are Different
It's understandable to presume that "Modern art" refers to art created today, but the term actually applies to an art period that started in the late 19th century and ended in the mid-20th century. Well-known artists from this period include Pablo Picasso, Vincent van Gogh, Paul Cézanne, and Georges Seurat.
The definition of contemporary art can be a little hazy since there is some overlap with Modern art. Generally, contemporary art is art created from the mid-20th century to the present. The majority of Park West Gallery's artists can be considered contemporary artists.
3. Artists Use the Impasto Technique to Add Texture
To achieve striking textures, lighting, and emotion in their works, artists may use a technique known as impasto. This technique is characterized by applying paint to a surface in thick layers, so much so that the artist's brush or palette knife strokes are visible.
For examples of impasto, check out artwork by Rembrandt, Vincent van Gogh, Jackson Pollock, and contemporaries like Slava Ilyayev, Daniel Wall, and Alexandre Renoir.
4. Technology Has Been Good for Art
One would think art became useless with the prevalence of photography in the 1880s, but technology only served to open creative pathways. Painters found new and expressive ways to portray their visions, a philosophy which founded the Impressionist movement. Similarly, new printing methods like lithography and serigraphy created a culture for widespread art collecting.
Art can be enjoyed around the world thanks to technology, from the invention of the painting tube in 1841 to the digitalization of museum collections. Think about it—nearly everyone knows what the "Mona Lisa" looks like, but how many have seen the masterpiece in person?
5. Art Has Always Been Controversial
Many celebrated and beloved works of art were actually controversial in their day. Picasso's "Guernica" painting was steeped in controversy when it was released during the Spanish Civil War, but is now hailed as an anti-war masterpiece.
Even the Old Masters pushed the envelope. Rembrandt's last painting, "The Conspiracy of Claudius Civilis," was seen as a crude debasement of Roman history. Goya's "The Nude Maja," finished in 1803, shocked viewers with its confident portrayal of female nudity.
6. Critics Helped Name Impressionism
Impressionism began in the late 19th century as artists aimed to capture fleeting moments in life. The style's hallmarks include visible brushstrokes, an emphasis on light, and the depiction of everyday objects and scenes.
The art movement's label originated with a painting by Claude Monet named "Impression, soleil levant" (Impression, Sunrise). When guests viewed this and other works at the first Impressionist exhibition on April 15, 1874, critics were remorseless.
Art critic Louis Leroy coined the term "Impressionists" in a satirical review, suggesting the paintings created were mere "impressions." In turn, the artists adopted the degrading label and made it their own.
7. Art is for Everyone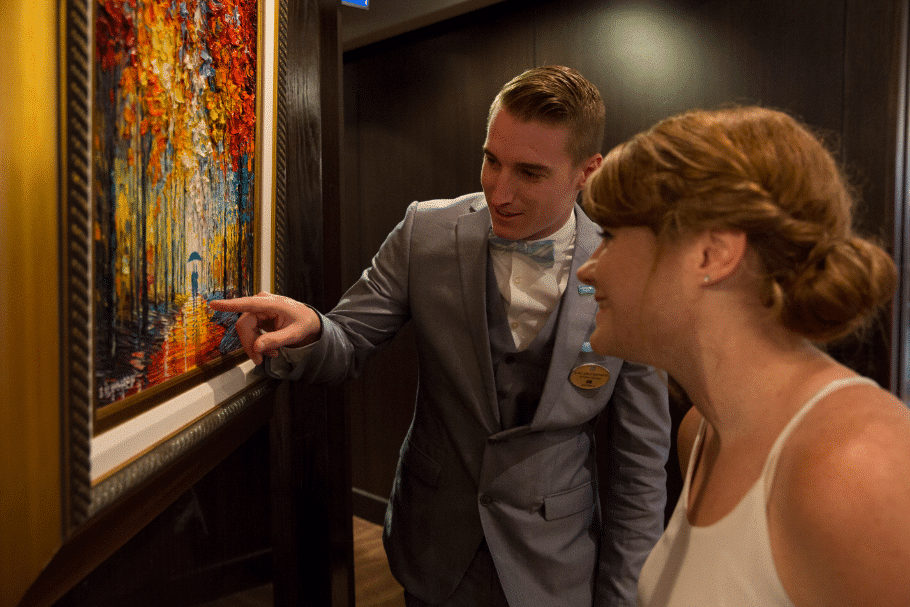 This may not sound like the other facts above, but it's just as important to know. Art speaks to everyone, and everybody is going to have a different connection to a work of art.
Instead of wondering what you're supposed to feel when looking at artwork, just feel. Even if you aren't an art expert, that doesn't invalidate your opinion.
Interested in learning more about art? Join Park West aboard more than 100 cruise ships around the world for our art auctions and seminars, or visit the Park West Museum in Southfield, Michigan.
RELATED LINKS: