4 Tips on How to Plan the Perfect Cruise
Did you know that October is "Plan a Cruise Month"? It's a worldwide event—first started by the Cruise Lines International Association (CLIA) in 2016—focused on teaching both new and experienced travelers the best ways to plan a cruise vacation.
The month actually highlights one of the greatest aspects of taking a cruise, namely, the fact that there are so many options available for every travel budget and style.
Park West Gallery hosts seminars and art auctions more than 100 cruise ships, so we have plenty of experience with cruises of all shapes and sizes we can share with cruise fans.
To celebrate Plan a Cruise Month, we're sharing 4 of our favorite tips for planning the perfect cruise.
1). Take advantage of Plan a Cruise Month promotions
October is the "Black Friday" for cruise lines. In honor of Plan a Cruise Month, many cruise lines offer special deals, pricing, and promotions to encourage you to book for the upcoming year. To quote CLIA Australasia & Asia managing director, Joel Katz: "Plan a Cruise Month is the perfect time to plan next year's holiday and nab a bargain."
2). Prioritize what you want to do on board and off board the ship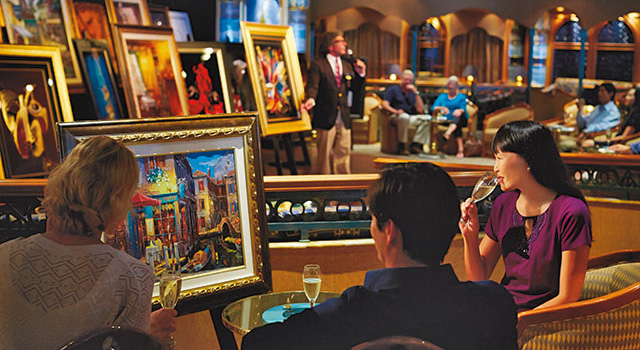 Before you lock in a cruise package with a tempting price, ask yourself, "What do I really want out of my cruise?" Offboard excursions? Restaurants? Shopping for exciting works of art? Always cast a critical eye on your cruise's amenities and itinerary, because you want to make sure your cruise experience meets all of your expectations.
3). Think about climate—both at sea and at home
Picking when you want to cruise is almost as important as where you want to cruise. Some locales are overwhelmingly popular at certain times of year—making them harder to book—and others can have less-than-ideal weather patterns you'll be keen to avoid. (If you're OK with some uncertainty and rain, you might find some real bargains during those periods.)
Also, if your hometown always has a scorching September or freezing February, why not give yourself a break and schedule your cruise during your home's most miserable month?
4). Seek out new experiences
A cruise should be an adventure, so, when you're looking at a cruise's locale and activities, seek out opportunities to try new things. If you've never been to a Broadway show before, find a cruise with lots of on-stage entertainment. If you've never been to a live art auction before, find a cruise with Park West on board and prepare to be amazed.
Set out to make new memories—not just try things you've done before—and get yourself a bargain for Plan a Cruise Month too.
Park West Gallery has over 20 years of proven performance operating art programs on cruise ships and over 2 million customers worldwide.