18 days of birthday: Yaacov Agam celebrates his 88th birthday in New York
Celebrating your 88th birthday sounds like a once-in-a-lifetime event, but artist Yaacov Agam always finds a way to explore outside the norms.
Agam, widely considered to be the "Father of Kinetic Art," celebrated his 88th birthday not just on May 11, but also in New York on May 29 with the help of Park West Gallery Founder and CEO Albert Scaglione and a special calendar.
Two years after meeting Agam in 1974, Scaglione began working with him and their relationship grew into an enduring friendship during the past four decades.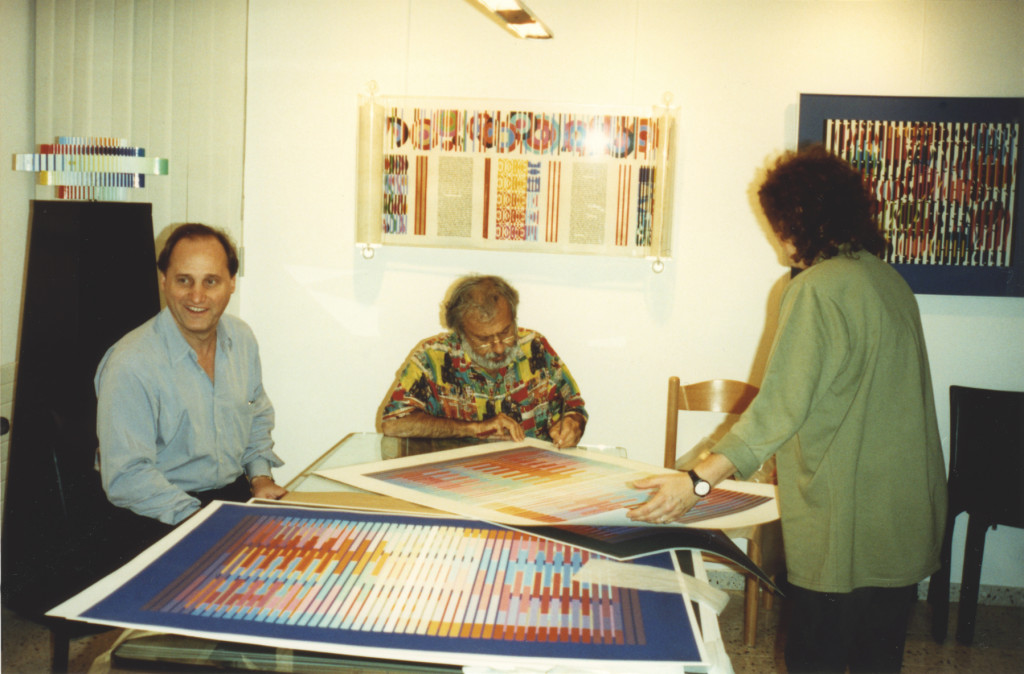 Agam enjoyed his 88th birthday on May 11, but the celebrations didn't stop there. Scaglione says Agam informed him that, according to the 354-day Jewish calendar, his birthday would actually be 18 days later, falling on May 29 instead.
Agam's friend, classical harpist Chantal Thomas d'Hoste, flew in from Paris to celebrate the occasion with him in New York, and Agam wanted Scaglione to join. Despite being away in Amsterdam, Scaglione quickly recognized the significance of the second celebration and made arrangements to be in New York on the final day of his "18 days of birthday."
"We've got 18 days in between both celebrations, and that is [Agam's] number, 18 has a lot of meaning," Scaglione says. "In the Kabbalah, 18 and nines are important."
New York is also an important location regarding Agam's history as an artist. A significant retrospective exhibition, "Beyond the Visible" was held at the Guggenheim Museum in New York in 1980. In addition, his "Selected Suites" were on display at the Jewish Museum in New York in 1975, and his "Double Metamorphosis II" was shown in the Museum of Modern Art. New York City even houses a menorah he constructed that is recognized by the Guinness Book of World Records as the largest in the world.
Scaglione attended a performance of the musical "Hamilton" with Agam. Afterwards, Agam, Scaglione and a select group of close friends and family gathered on a yacht and sailed in the Upper New York Bay, including around the Statute of Liberty.
Scaglione says in the past, Agam has requested that Albert sing for him, usually an Elvis song such as "Love Me Tender." However, to mark this occasion, Scaglione fulfilled Agam's request by singing "Dream Lover" by Bobby Darin.
Agam was born in the city of Rishon LeZion on May 11, 1928. Agam established himself as a pioneer in kinetic art, creating artwork that is kinetic in nature and transforms with movement. His father, a Rabbi and Kabbalist, was an influence in shaping his nonrepresentational and abstract style.