Yanke Strudel on the Ruby Princess
Park West collectors and artist Tim Yanke were surprised with a custom-baked strudel to polish off an amazing 7 day cruise on the Ruby Princess.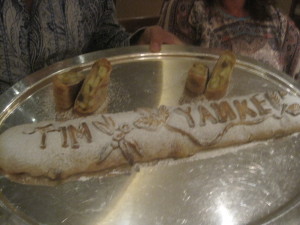 Good friend and hotel general manager, Guenther Kopf, presented Tim Yanke and the Park West collectors group with a freshly baked "Yanke Strudel," complete with Tim Yanke's iconic dragonfly images adorning it. After being presented to Tim, the delicious dessert was enjoyed by more than 90 delighted collectors. Thank you Ruby Princess for such a wonderful farewell surprise!