Sun Sentinel looks behind the scenes at Park West Gallery
Park West Gallery's reputation of professionally providing framed art all over the globe requires a lot of work. So what does it take to prepare thousands of works of art to be shipped anywhere in the world?
The Sun Sentinel recently visited Park West Gallery's Miami Lakes, Florida fulfillment center to give a behind-the-scenes look at what goes into delivering art to your doorstep. (Click the above link to go to the Sun Sentinel's page if the video does not play.)
As the video states, Park West Gallery sold more than 350,000 works of art in 2014, including art by Peter Max, Romero Britto and Tim Yanke as well as animation cels.
To keep up with this demand, Park West Gallery has 6 to 7 million feet of picture frame moulding in stock, or 1,136 miles (1,818 kilometers). That is roughly the same distance from Boston, Massachusetts to St Louis, Missouri. Of that, about 190 miles (the distance between Fort Lauderdale and Key West, Florida) is used on a monthly basis.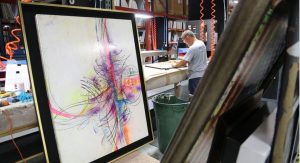 John Karay, Vice President of Operations, has been working at Park West Gallery for years, overseeing the daily operations involving internal and external artwork coming to and from the Park West Gallery Miami location. He says artwork from Park West Gallery's art auctions on cruise ships and land-based events can go through numerous departments, including the linen department, stretch department and plexiglass department before heading to the shipping department.
"The scale has increased…but it's pretty much stayed, it's the same handcrafted product that we have to produce for each client," Karay says.
Founded in 1969 by Albert Scaglione, Park West Gallery has brought the experience of collecting fine art to more than 1.8 million customers around the world, through art auctions on cruise ships and in major metropolitan areas, and via our gallery locations in Michigan and Florida.