Stephen Fishwick Brings His High Energy "Art Attack" to Waikiki Beach
Not only is Stephen Fishwick an immense artistic talent, but the San Diego native is also a virtuosic powerhouse on stage. Anyone who has had the special opportunity to be in his presence understands this completely. His energy is intoxicating, his kindness genuine and overwhelming, and his unique ability to put on a show and tell a story will have you leaning in with anticipation.
And he does all that while painting live in front of an audience. It's incredible.
Last month, hundreds of lucky Hawaii residents and visitors were treated to Fishwick's unrivaled artistic vigor during his live appearance at Park West Gallery's museum and gallery in Honolulu, Hawaii. During this free event, attendees gathered outside on the Waikiki Beach Walk on a gorgeous blue-sky day and watched as Fishwick attacked black canvases with an abundance of color.
Using both hands, he threw paint at each blank canvas, danced from side to side, bounced up and down to the beat of the music, and, throughout the entire performance, engaged with a crowd of adults and children who sat with their mouths wide open, in awe of what they were seeing take shape in front of their eyes. In just a short time, Fishwick's blobs of color transformed into masterful paintings of a sea turtle and a majestic whale.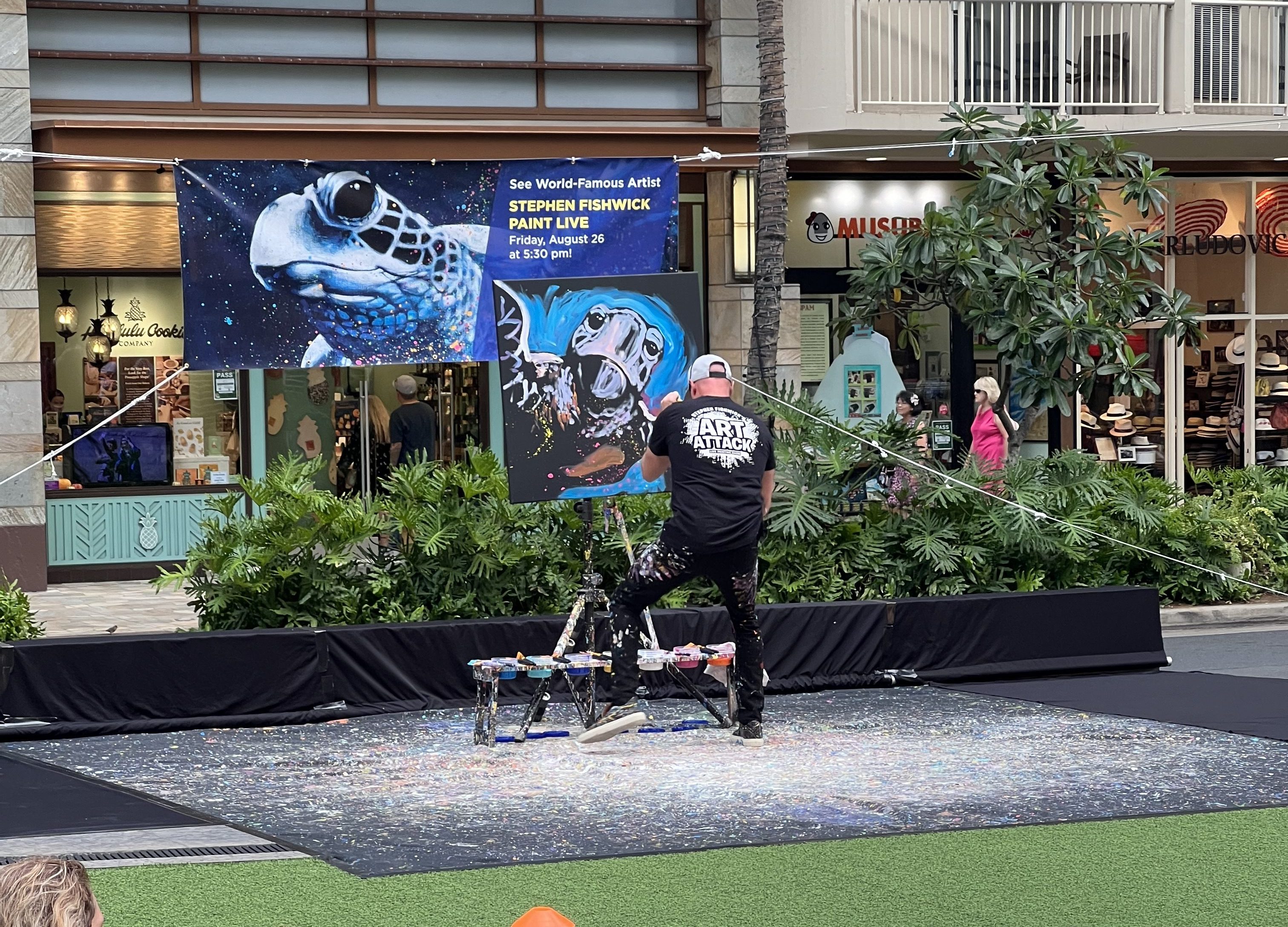 Acting as his own personal hype man, and forgoing brushes in favor of his hands, Fishwick also threw paint at a living canvas too—a young child who eagerly raised their hand became his lucky volunteer. Outfitted in a black Stephen Fishwick "Art Attack" t-shirt—"Art Attack" is what Fishwick calls his live performances—the paint-splattered child became part of the show much to the delight of the audience.
Once the outside performance was complete, Park West Hawaii Director Arturo Torrez invited the crowd back to the gallery where Fishwick continued painting live—albeit with marginally less dancing—and met his fans. The next day, local Park West collectors got treated to a private cocktail party with Fishwick at the gallery and a special tour of a new exhibition of his art specially curated for the Hawaii gallery.
The next time you're in Michigan, Las Vegas, Hawaii, or anywhere with a Park West Gallery location, be sure to drop by—you never know what artist might be appearing when you visit!
To collect the artwork of Stephen Fishwick and bring his color and energy into your life, attend one of our exciting online auctions, contact our gallery consultants at (800) 521-9654 ext. 4 or sales@parkwestgallery.com.
Follow Park West Hawaii on Instagram to stay up-to-date on future artist visits!