Semi-Finalists Selected in MI Great Artist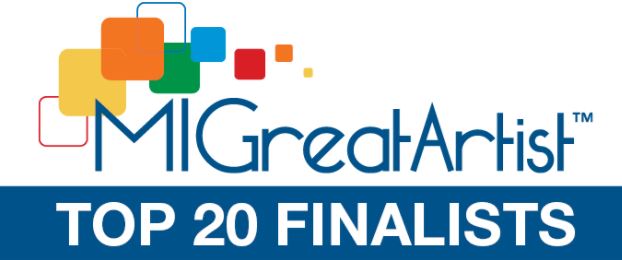 The votes have been tallied, and 22 Michigan artists will now compete as semi-finalists for the title of 2017 MI Great Artist.
More than 34,500 votes were cast during the contest's 12-day public voting period. The votes narrowed down a field of 232 artists to 22. Originally, only 20 semi-finalists were chosen, but due to the close results of the voting two additional artists were included.
"I continue to be amazed by the work of these talented artists and how the public has embraced the competition," Oakland County Executive L. Brooks Patterson said. "In less than two weeks, we had more than 34,500 votes—15,000 more than we had last year. The contest gets bigger and better each year. I thank the artists for entering and congratulate those whose work will go before the judges."
Artwork and information about the 22 semi-finalists can be found on the MI Great Artist voting website.
Five expert judges will review the semi-finalists and whittle the entrants down to five finalists. The finalists will be announced at 5 p.m. on September 19.
The judges are Albert Scaglione, Founder and CEO of Park West Gallery; Elliot Broom, Detroit Institute of Arts Vice President of Museum Operations; Dominic Pangborn, Artist and Founder of Pangborn Design Collection; Kristie Everett Zamora, Founding Editor of Prosper Magazine in Oakland County; and Don Tocco, Artist and Founder of Tocco and Associates, Inc.
The public is invited to attend an awards reception at Park West Gallery in Southfield, Michigan on October 25. Guests can meet the finalists and admire their artwork before learning which of them will be named the 2017 MI Great Artist. The winner will be determined by a combination of public votes and the judge's scores.
Prizes awarded to the MI Great Artist winner include a solo exhibition at Park West Gallery, their five submitted artworks framed by Park West Gallery, a selection of business services from the Oakland County One Stop Shop Business Center, and a $1,500 cash prize.
The four runners-up will each receive $375 and other prizes. For a list of rules, prizes, and other information, visit the MI Great Artist website.
MI Great Artist is co-sponsored by Oakland County and Park West Gallery as a premier quality-of-life event that identifies and supports Southeast Michigan artists.