Peter Max Creates Cover Wrap for AARP Magazine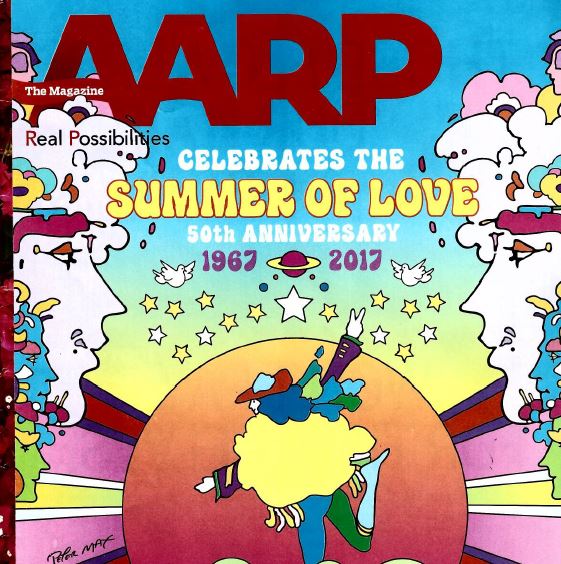 Legendary artist Peter Max was commissioned to paint the cover wrap of August/September 2017 issue of "AARP The Magazine." AARP (American Association of Retired Persons) commissioned the iconic artist to celebrate the 50th anniversary of the famous "Summer of Love."
Rising alongside the counterculture movement of the 1960s, Max represented a generation of peace, acceptance, and love in paint. Robert Love, AARP editor-in-chief, says Max's "euphoric rainbows and psychedelic colors will always remind us of the '60s."
The Summer of Love was the token counterculture experience in America. Thousands flocked to the Haight-Ashbury neighborhood of San Francisco to throw themselves into a community-driven lifestyle, experimenting with new ideas, and meditating in large groups. This generation added a new fold to the American canvas. The summer marked a cultural shift where progressive thoughts and ideals blossomed. To commemorate the iconic summer, AARP chose the perfect artist for the job.
Though Max's art has changed through the years, he returned to his classic, cosmic style for the AARP issue. The cover wrap is reminiscent of his early works, characterized by vivid colors, celestial motifs, and sharp lines.
This is far from the Pop art icon's first commissioned work. Over the years, Max has worked with notable brands such as NBC, NASCAR, and Coca-Cola. Max says he only works with corporations that appeal to him with "energy, usefulness, beauty, and benefit." He keeps his artistic integrity while creating fine art for various companies, which is an important aspect of Max's repertoire.
That isn't to say that Max doesn't follow some aspects of the bohemian lifestyle; he is a vegan who practices meditation and yoga. He also is an avid environmentalist and a defender of human and animal rights.
Maturing into a young adult in that era heavily influenced Max's ideologies and approach to his art, things that stick with him to this day. Even his musical tastes were shaped by the '60s.
"Some of my favorite musicians and songs are from the era," said Max. "Jimi Hendrix, the Who, the [Grateful] Dead, [Led] Zeppelin, the Beatles. I paint to this music all of the time."
Read more about the project and view the AARP's video profile on Max.
To add a work by Peter Max to your collection, contact one of our gallery consultants at (800) 521-9654 ext. 4 during business hours or email sales@parkwestgallery.com for inquiries after hours.