Meet the Artist: 10 Questions with Patrick Guyton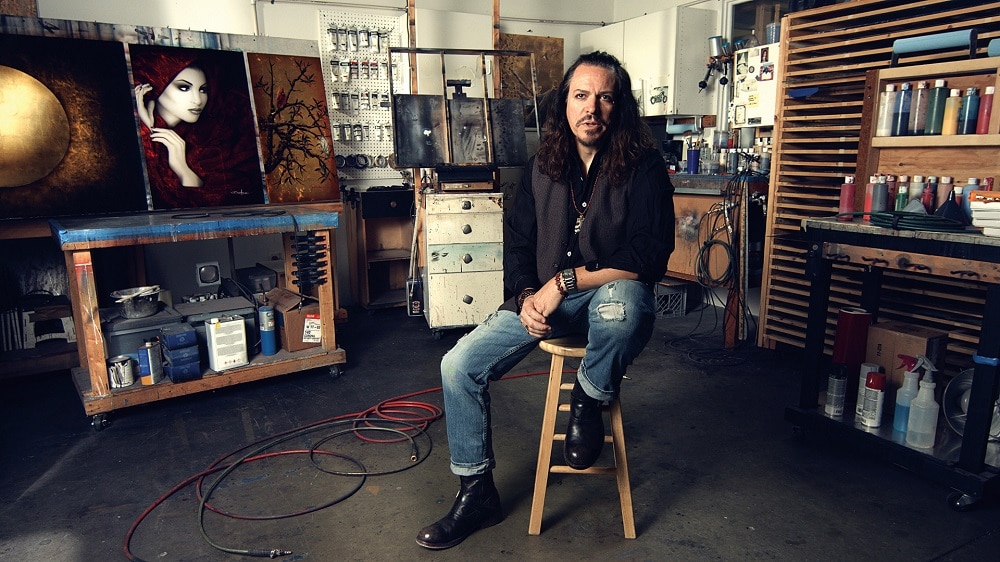 Patrick Guyton has combined his passion for ancient art techniques with a tenacious work ethic to create a truly unique body of work.
Guyton's art is a sight to behold. He carefully hand-applies sheets of ultra-thin precious metals to every artwork, bringing an extra dimension to his art not seen anywhere else.
While his exact process is a guarded secret, Guyton was more than happy to talk with us about his origins as an artist, his influences, and how his former career in animation continues to influence his art today. We invite you to meet Patrick Guyton!
1. When did you first realize you wanted to become an artist?
I first realized I wanted to become a professional artist while sitting in a furniture delivery truck on the Beltway around Washington D.C. after it broke down during rush hour traffic in the center lane.
Let me explain—after high school, I took a job in D.C. driving a furniture truck, picking up loads from North Carolina and returning them to D.C. On one of those trips, my truck broke down, and was stranded for four hours waiting for a repair vehicle. During those four hours, I thought, "Art school has to be better than this." When I finally made it home about six hours later, I called my mom and dad and told them I would be moving back to Pennsylvania in hopes of attending The Art Institute of Pittsburgh, which I ended up starting in 1984.
2. What inspires your art?
Most of my main themes and inspiration come from four main sources:
First is the ancient dynasty style application of leafing and gilding, which I like to push the boundaries on, particularly in terms of using contemporary application methods and chemical treatments.
Second would be the combination of transparent and semi-transparent glazing techniques. This is a style that came to full development in an oil application with the Flemish painters in Northern Europe around the 16th century.
Third would be my involvement with traditional animation and those acquired skills. Background painting, cel painting, layout and design theory.
Finally, sign painting with its disciplines and techniques round out the list.
So the combining of these four inspirations has developed into one new style, and inspired what I call "Gilded Modernism."
3. Which artists have played a role in influencing your style?
It all started with the mass creativity of my mom and dad when I was young. Of course the master,  Michelangelo, has always been on top of my list. He redefined imagery through his work—whether he was sculpture or painting—and visually celebrated the glory, beauty, and magnificence of God's creation.
I love Van Gogh for his passion to create in light of his torments and seemingly unattainable success. Irving stone wrote a book about Michelangelo years ago called "The Agony and the Ecstasy," which I have always related to in my own personal ways.
The rest of my influential dream team includes Johannes Vermeer, Albrecht Durer, Gustav Klimt and John William Waterhouse.
4. How has your background in sign painting affected your style?
It affected my style mainly through the study of layout and design structures/theory, discipline in brush control, font design—basically the full scope of visual communication.
It also taught me how to use various methods of treating and aging materials, using modern-day methods, as well as the ability to successfully combine water and oil-based paint products with a stable result—an ancient sign shop secret.
5. Can you tell us about the process you use to bring one of your gilded works of art to life?
Sorry, but I cannot give full disclosure to the method. It's a proprietary system.
6. What do you want collectors to take away from your art?
I want them to take away a sense of enjoyment of the art for its sheer beauty, depth of elegance, simplicity, sense of calm, radiance, and cohesive structure. It's not unusual for my clients to become emotional and, often times, they cry because the art has affected them in unexpected ways. You can't plan for that effect, but it's extremely satisfying to know you have touched someone that deeply.
7. Your background includes working in the animation industry. What was it like working with famous figures in animation like Chuck Jones and Maurice Noble?
Working with these animation legends was nothing short of surreal. Even to this day I am still blown away that I was afforded the opportunity.
I will always owe a debt of gratitude to my dear friend Martin Tesch, for calling me and letting me know about the opening as a background artist for Chuck. The man no doubt was an artistic genius. The amount of learning artistically that came out of that time is literally beyond description, all of which I still apply daily.
The honor to create art with and alongside Maurice Noble is a time in my life I will also never forget. For those who aren't familiar with Maurice, some of his art credits include Disney's original "Snow White and the Seven Dwarfs," "Dumbo," "Fantasia," "Dr. Seuss's The Grinch" – just to mention a few. What I learned from his methods (which are legendary in the business) are also still in my daily workings.
One of the best memories I have with these guys was one of the last pieces we worked on together. Chuck, Maurice and I recreated a scene from "What's Opera Doc," a cartoon that was inducted into The National Film Registry as one of, if not the, greatest pieces of animation of all time. I thank God for opening the door for the opportunity with these men.
People ask how long it took to get a job like that, but it was nothing I was trying for, by grace it was given and I am very thankful.  Being associated with Chuck Jones, Maurice Noble, Warner Brothers, Robert McKimson Jr., and Hannah Barbera as a completely unknown background and cel painter, will forever stand alone as one my greatest personal achievements.
8. What do you enjoy doing when you're not painting?
I love spending time with my family, my daughter Piper and my wife Gretchen.
I play bass guitar and I have since the age of 10. I also play stand up bass. I especially enjoy playing music with my daughter, who plays cello, but surprisingly knows way more about reading music than me.
Also, you can find me performing around the planet with the band Leatherwolf, with whom I will be celebrating a 30 year anniversary in 2019.
You can also find me playing bass and performing in one of my favorite line ups supporting the legendary Gary Puckett along with artist Scott Jacobs, Park West's Jason Betteridge, and Morris Shapiro at select Park West V.I.P. events around the world.
I also enjoy motorcycle riding, dirt and street and I travel a lot. Other than that my life is pretty quiet.
9. Do you have a favorite color?
Black.
When Henry Ford was asked if his cars came in any other colors, he replied, "You can have any color you want, as long as it's black."
Black has been my favorite color for a very long time. Sometimes I dabble in royal purples, gold, cad red, and sap green, not to mention medium grey number 5.
But mostly just black.
10. Hummingbirds frequently appear in your artwork—why is that?
I was looking to have, as a subject matter, something that would be similar to a free floating sheet of gold leaf. If I hold a sheet of gold leaf in the air and let it go, it will float and flutter back and forth, almost defying gravity. Hummingbirds and gold leaf are almost made for each other. They mean so many things to so many people, I find it's better to let the viewer interpret it themselves.
I should also mention that, when I was first considering painting hummingbirds, I was enjoying a peach Snapple at the time. When I opened the drink, on the inside of the lid, it said, "Fun Fact #17 – A hummingbird weighs less than a penny." That definitely gave me confirmation to fly that flag.
If you're interested in collecting the art of Guyton, contact our gallery consultants at (800) 521-9654 ext. 4 or sales@parkwestgallery.com after hours.