Matt Beyrer, Peter Max, Picasso, and More Shine in Park West's 2018 Summer Sale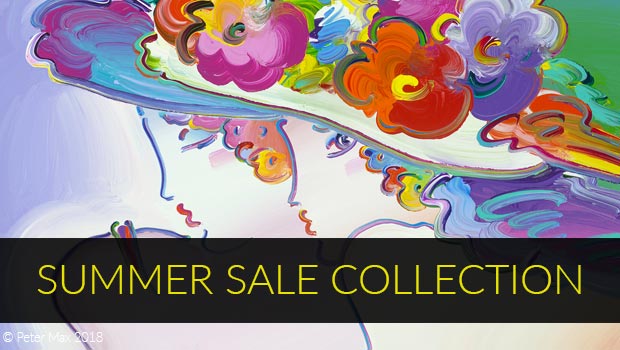 Now that summer's almost here, couldn't you use a little more color in your life? Brighten things up with a new work of art from Park West's 2018 Summer Sale—one of our biggest and most ambitious sales events of the year!
As the world's largest privately-owned gallery, we offer artwork from some of the most renowned contemporary artists. Our Summer Sale brings together almost 600 works of art by artists ranging from Pablo Picasso to Peter Max.
You can view our new summer collection here, where you'll see newly-available artwork from Park West favorites like Yaacov Agam, Romero Britto, Pino, Itzchak Tarkay, Thomas Kinkade, Daniel Wall, and many others.
Veteran art lovers and new collectors alike will find a wide variety of exciting art mediums in our sale. We're proud to offer something for everyone, whether it's unique paintings, graphic works, or caldographs—our series of artwork on wood created with our own cutting-edge techniques.
Fans of caldographs will be happy to hear that the immensely-popular art of Matt Beyrer makes a return in our Summer Sale, this time with the addition of his work "Wish You Were Here." Beyrer frequently sells out his VIP events, so this is the perfect chance to collect his limited-edition art.
For collectors seeking unique paintings, the sale includes works by Max, Michael Godard, Charles Lee, Alexandre Renoir, Maya Green, Marcel Mouly, and many others. These paintings are one of a kind, so it's first-come, first-served.
If that's not enough, our Summer Sale allows collectors to embrace one of the hottest art trends of the year—Picasso! The legendary Spanish artist seems to be everywhere this year, appearing as the subject for the new season of National Geographic's "Genius" or his art starring in recent high-profile art auctions. In fact, a Picasso formerly owned by David Rockefeller sold for $115 million on May 8.
Our Summer Sale proves you don't need to be a Rockefeller to own a Picasso. This summer, Park West is offering limited-edition works created by the artistic legend, including etchings and linocuts.
In addition to Picasso, you'll also find works from artistic masters like Francisco Goya, Joan Miró, Rembrandt van Rijn, and Pierre-Auguste Renoir.
No matter what kind of art you're interested in, the Park West Summer Sale gives you an incredible opportunity to enhance your collection and brighten your life with art you'll treasure forever.
Browse the full 2018 Summer Sale Collection for the artwork of your dreams. If you have questions about collecting works, contact our gallery consultants at (800) 521-9654 ext. 4 during business hours or sales@parkwestgallery.com after hours.