Kids speak up to improve Michigan foster care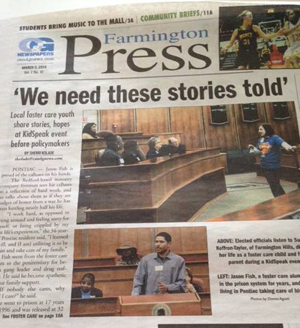 Overcoming adversity was the theme in story after story told by former foster youth Feb. 24 at the Oakland County Commissioners Auditorium in Pontiac, Mich.
As each storyteller shared bits of their life in the foster care system, their testimonies prompted a range of emotional responses from the audience, which included Oakland County and Michigan state officials. The youths' stories also garnered a great deal of respect for the way they each met and confronted the many hardships they faced.
The testimonies were part of KidSpeak, an event that provides former foster youth the opportunity to speak about their experiences in foster care and suggest solutions to improve the system. Park West Foundation was among its co-sponsors, with the foundation's program director Saba Gebrai making introductory comments and supporting the speakers.
"It's just something you can't help," said Saba. "Once you connect with a child and once you realize this issue is real, it moves anyone to do something about it, and that's basically what happened with [Park West Foundation]."
More than 20 former foster youth took the stand to give area lawmakers a glimpse into their former lives. Several shared common experiences, ranging from poor communication with caseworkers and lack of mentorship to difficulty forming trusting relationships and abuse.
"I feel that the workers need to be more involved and have more of a connection with the cases that they have," said Lana White, a student at Oakland Community College. "I also think a lot of workers are overwhelmed."
Most speakers had ideas for improving the lives of children in foster care, too. "All I ask for is stability and security for the kids that come into the system," said Angel Wilson. D'mya Smith talked about how medication is frequently used in the system, something she thinks should change in favor of greater involvement and compassion from psychiatrists. "I want to abolish medication being used unless absolutely necessary," she said.
Despite the struggles, some speakers mentioned that being in foster care had a positive impact on their lives. "It has made me stronger and more determined to become something and someone," said Lana.
"A lot of children that go through foster care, they're very strong morally, intellectually," said Dennis Schneider, a student at Western Michigan University. "They need people to guide them because we're all children." Marie Fleming, a Wayne State University student, agrees. "We're not a charity case," she said. "We just need a little guidance."
More about this powerful event was reported by the Oakland Press.
KidSpeak is a signature event of the Voices for Michigan's Children. Since 1993, Michigan's Children has served as a statewide independent and non-partisan voice for children, focusing on reducing disparities in child outcomes from cradle to career, engaging public officials, business and community leaders and advocacy partners to improve public policies and programs that give all children the opportunity to thrive. The Park West Foundation has been dedicated to innovative and creative solutions for youth aging out of foster care since 2006 in Michigan. Important to the success of Oakland County KidSpeak event include Foster Care Alumni of America-Michigan Chapter and Oakland County's work with Michigan Youth Opportunity Initiative. Special thanks to commissioner Jim Runestad who, as a foster parent for many years, has advocated for foster parents and children as a private citizen and elected official.
Gallery photo credit: Juan Carlos Perez