Duaiv among the Who's Who of artists
French-born Park West Gallery artist Duaiv has been named one of the artists featured in the 2015 edition of "Who's Who in American Art" book.
The 1,704-page book, published by Marquis Who's Who, is the 35th edition of an annual book that profiles more than 11,800 contributors to the visual arts in the United States.
The individuals listed in the book are nominated by current entrants, art associations, galleries and museums. Names are also gathered through research as well as the editorial staff that collects information on the entrants.
To select the entrants, factors like position, accomplishments, visibility and prominence are taken into consideration. Those who are selected have their biographies and accomplishments printed.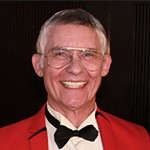 Born in 1952, Duaiv began painting at the age of 3 and completed his first oil painting at the age of 9. He is classically trained in art and music, having attended Conservatoire Nationale Superieur de Musique in Paris. His artwork has been shown in France, Switzerland, Belgium, Spain, the United States, Tunisia and Australia. He currently resides in Florida.
His impressionistic style features bright colors depicting scenes of boating, landscapes, seaports, marketplaces and cathedrals. At the age of 25, he became friends with Salvador Dali. The Surrealist had a big impact on Duaiv, not just on his art, but to encourage him to blend his passions of music and art and follow them to wherever they lead.
He has painted for many events in Cannes, including the Cannes Film Festival, and was recently selected as the guest of honor for the Coconut Grove Arts Festival, with his artwork used as the poster for the festival. He has been awarded the Commander of the Order of the Star of Europe and European Foundation Prize.
Not only is an accomplished painter, but he is a renowned cellist. He came to the United States in 2013 thanks to cellist Yo-Yo Ma sponsoring his immigration, and to thank him, Duaiv painted the musician on the cover of his own album.