Donna Sharam: The Color Queen of Australia
Born in the Australian countryside – better known as the Australian Bush – Donna Sharam didn't have the upbringing of a typical artist. She spent her childhood riding horses and swimming. Art didn't become a big part of her life until she was 18, when she began attending school at the Sydney College of the Arts where her interest in art sparked.
After getting her bachelor's degree in design and textiles, she ventured into the fashion industry as a textile designer. She traveled to Hong Kong and China, designing fabrics and finishing garments.
Sharam's life took a turn when she married and started a family. With three children at home, she decided to change her career path, earning a postgraduate degree in teaching and foraying in her new career. Despite her change of profession, she realized that her love of art was never going to fade. It was then that Sharam began to design housewares.
In 2005, she moved to Byron Bay in northern New South Wales. Inspired by the area's beautiful landscape and her love of color and design, Sharam decided to take up painting. Her art gained traction quickly, and now, over a decade later, she has sold over 700 original artworks.
What makes Sharam's art so great is its uniqueness. The stripped-down, crisp 2D imagery is laden with absolutely stunning colors, primarily red and pink – her two favorites. The art is simple, yet the energy and color leap off the surface, giving a positive, happy feeling. There's a reason that Sharam is affectionately referred to as the "Color Queen."
"I just cannot seem to not use color in my artwork," says Sharam. "I breathe, live, dream and even think in colors."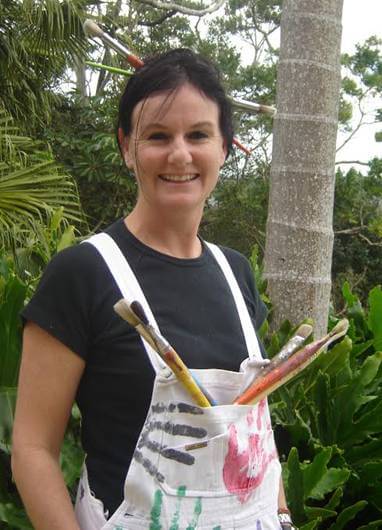 Her art is relatable; the bright colors, fun shapes and recognizable subjects all evoke strong feelings from the viewer. The main thrust of Sharam's art, according to her, is an overwhelming sense of experiencing the "love of life."
"Most artists focus on one subject matter, but I don't. I paint a whole range of topics," she says. "I paint animals, trees, landscapes."
Sharam has been featured on the TV show "Put Some Colour In Your Life", hosted by fellow Park West artist Graeme Stevenson, which showcases the best artists of the Oceania region.
View Sharam's artwork here.