Discover What Inspired These 5 Unforgettable Pino Paintings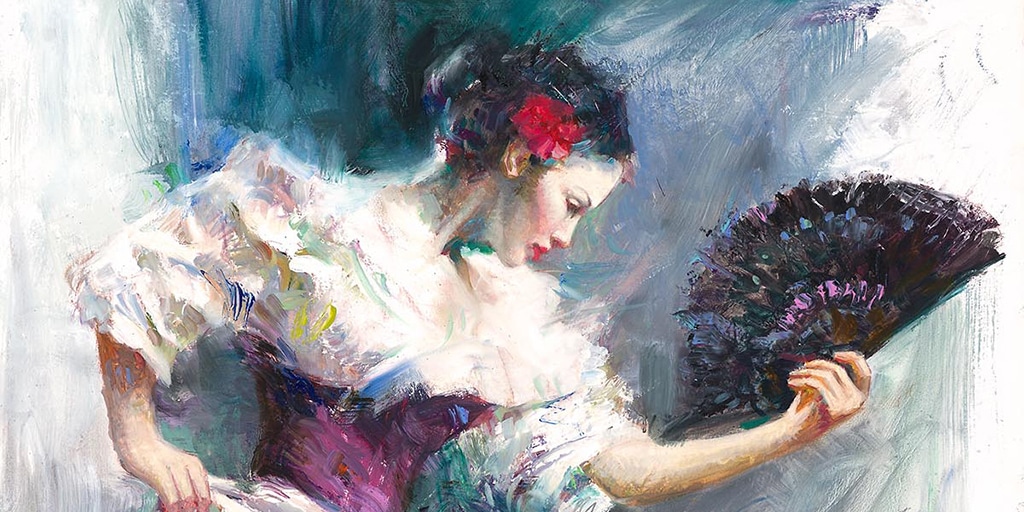 Pino is known around the world for the texture, emotion, and beauty of his paintings. However, when you learn about the inspirations behind his artwork, Pino's paintings take on new dimensions of depth and meaning.
No one knows more about the stories behind Pino's art than Max Dangelico, Pino's son. As a young boy, Dangelico watched his father work and was often present when many of his father's most popular paintings first came to life.
We recently asked Dangelico to tell us the stories behind five of his father's one-of-a-kind paintings. Here's what he told us:
Pino: Oil on Canvas
Pino switched from acrylics to oils after he moved from Italy to the United States in 1978. Following a successful career as an illustrator for publishing companies, Pino shifted his focus to fine art. He continued to use oils to retain the velvety textures he created for his book covers.
With that in mind, Dangelico told us about two of his father's works of oil on canvas:
"Apres Nuit" (2006)
"This painting is from Pino's 'boudoir' series. It is highly collected and is credited for making Pino one of the most popular figurative artists of his time," Dangelico says. "Subjects of this matter are collected worldwide and now gaining extensive popularity in Asia as well."
 "Colorful Bouquet" (2008)
While known for his portrayals of women, Pino also painted landscapes or still lifes. Dangelico says that the inspiration behind "Colorful Bouquet," which seems like a departure piece from other Pino works by the artist, harkens to Pino's earliest memories.
"When my father first started to draw at age 5, his favorite subjects were still lifes. This piece reminded him of his early years when he first started to draw and paint," Dangelico says.
Pino: Oil Studies
According to Dangelico, Pino occasionally created sketches in color before beginning a painting. The artist did this to gain a better feel for the color, light, design, and proportions.
Here are Dangelico's insights on three fascinating oil studies by his father:
"The Dancer" (2002)
Fans of Pino's work may recognize this study right away from what is arguably one of Pino's most important works—"The Dancer."
"He fell in love with the flamenco dancers while traveling through Spain," Dangelico says. "He was able to capture the movement, light and sensuality of the dancers."
"Peaceful Rest" (2005)
Like many of his paintings, this oil study portrays the maternal instincts of the many different women who influenced Pino's childhood.
"Women were bold, defiant and pillars of strength in very difficult times in post-World War II Italy," Dangelico says. "Many of these qualities can be seen in his mother/daughter paintings, such as this one."
"The Red Viola" (2001)
In addition to his iconic women, Pino also enjoyed painting older men in various situations, from reading the morning paper to having quiet moments of introspection. Dangelico says "Red Viola" is his father's portrayal of a typical musician one might see in the town square in his hometown of Bari, Italy.
"My father enjoyed painting older men. He loved the story their faces would tell," Dangelico says. "Their wisdom and weathered look gave these subjects a lot to reflect upon."
To collect the art of Pino, view our complete Summer Sale collection or contact our gallery consultants at (800) 521-9654 ext. 4 during business hours or at sales@parkwestgallery.com.