Artist Agam Still Vibrant at 80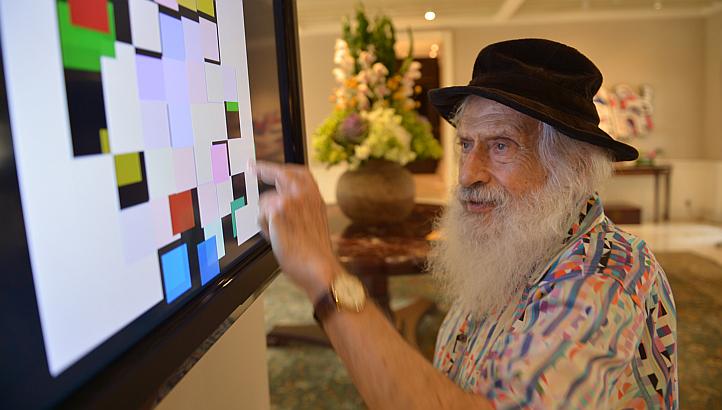 Originally published in JTA, June 5, 2008 | By GABRIELLA BURMAN
DETROIT (JTA) – It would be easy to characterize Yaacov Agam as a painter in the twilight of his career.
The celebrated Israeli artist, who turned 80 last month, is focused on preserving his legacy of great public works and building an eponymous museum in his birthplace, Rishon LeZion. Agam is set in his ways and topics he wants to discuss, and he hires the same French-speaking limousine driver whenever he visits the United States.
But that would be a superficial dismissal of the artist, who like his surname, the Hebrew word for "lake," shimmers with infinite ideas beneath the surface.
For starters, he says, "I don't feel 80. And anyway, 80 in the Talmud corresponds to strength."
The dark moustache of his youth has given way to a long white beard, but the deeply spiritual Agam remains serious, sharp and agile. He is at work on a show to be unveiled in his adopted city of Paris in October that he promises is "completely new."
Agam also has been jet-setting to birthday parties in his honor in Miami, Detroit and New York City, where on Monday the French and Israeli consulates held a joint event in honor of Israel's 60th anniversary and "80 years of Agam."
He also aspires to win a Nobel Prize for an award-winning educational program he developed that strengthens visual skills and memory in preschool children. Many schools across Israel have implemented the Agam Smarts program.
In visual cognition tests conducted by the Weizmann Institute of Science in Rehovot, children were asked to identify shapes in complex drawings. Those who participated in the exercises outperformed those who did not.
"This will be my greatest contribution, as important as my artwork," Agam said. "Because if we can learn a new way to see, we can unleash creativity, and creativity brings solutions to the world."
His own creations run counter to the time-bound nature of most artworks he saw as a young man.
Viewing a painting was like "looking at a gravestone," he said. "It was in the past and never changing."
The concept was at odds with the kabbalistic upbringing by his father, Rabbi Yehoshua Gibstein, the author of several books on Jewish spirituality who also was known to doodle on napkins.
Agam married a basic premise of Jewish mysticism – that one never stops transforming as long as one is alive – to kinetic art, a movement that incorporates motion into artistic expression. The movement, which has existed since the early 20th century, is best represented in the larger art world by sculptor Alexander Calder.
Among Agam's greatest works reflecting this aesthetic are the monumental fountain integrating sculpture, light and the musical orchestration of water jets in La Defense, Paris' business district; the Dizengoff Plaza fountain of water, fire and music in Tel Aviv; and countless "Agamographs," many of them containing Jewish subject matter, which present different images depending on the viewing angle.
The works all contain the colors of the rainbow, a universal image that Agam has called God's first gift of art to man.
Not everyone agrees that Agam's oeuvre will stand the test of time. Some critics contend that Agam has made a career of one idea and never evolved, while others call it a fertile concept that has sustained him for more than 60 years of making art.
"I think he's a stone genius," said Morris Shapiro, the gallery director at Park West Gallery in Southfield, Mich., which has exhibited and sold Agam for decades, and also hosted a birthday party for him May 18 in Detroit. "He took up the thread of aesthetics that had been cast aside by conceptual artists such as Marcel DuChamp, added the dimensions of time and space, and taken painting to another level."
Agam has an ardent following among Jews and non-Jews. Dr. Steven Eisen of Las Vegas and his wife, Stacey, own 12 Agamographs. Eisen's appreciation of the artist's work is twofold.
"I like the dynamism and the painstaking effort of using hundreds of different colors – that's what catches my eye," Eisen said. "I also like the Jewish symbols represented. They mean something to us. It's certainly nice to have Jewish references in our art collection."
The Eisens, active synagogue-goers, are considering building a larger home because they are running out of wall space.
Chris Cameron, of Beverly Hills, Mich., who is a Christian, owns nine Agam works of various sizes and shapes, including two paintings with movable pieces, and an Agam necklace made up of nine concentric circles that can be taken apart and rearranged.
Cameron says she is intrigued not only by Agam's intellect, but also his religious beliefs.
"I've gained an appreciation of his religion through his art," she says. "There's a lot more going on in the painting than what meets the eye initially."
Such comments would seem to mirror Agam's understanding of his own work.
"Central to Judaism is its emphasis on life, and the only constant in life is change," the artist said. "This is what I've incorporated into my art, and today's society is finally starting to understand this."