Alfred Gockel Named 2011 Official Artist of Top 10 Jazz Festival
"Like a gifted musician, Alfred Gockel approaches his canvas," wrote Park West Gallery Director Morris Shapiro in his recent article, Alfred Gockel: Intention and Discovery. The contemporary artist is admittedly inspired by music — especially jazz — so it's quite fitting that the work of Alfred Gockel has been chosen to commemorate one of the nation's premier jazz festivals.
---
Now in its 13th year, the ResortQuest Seabreeze Jazz Festival has named Alfred Gockel as their 2011 Official Artist. The event will take place April 13-17 at Pier Park in Panama City Beach, Florida.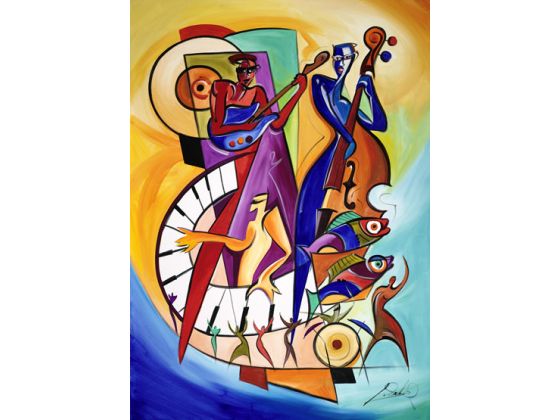 Nothing goes better with contemporary jazz than contemporary art, and the Seabreeze Jazz Festival Artwork and T-Shirt design for 2011 is a perfect blending of both.
Created by renowned contemporary painter Alfred Gockel of Germany, the design (shown above) is a visual fusion of jazz and art in one very funky design.
Known as one of the "most collected contemporary artists of our time," Alfred Gockel's works are highly sought-after by some of the world's top art collectors and art aficionados. The vibrant use of color and his unique style truly depicts the funky coolness yet sophistication of smooth jazz and the Seabreeze Jazz Festival.
Alfred Gockel will make a special appearance at the Seabreeze Jazz Festival doing "live painting" each day with his original work being auctioned to the crowd at the end of each festival day. For the jazz-lover and art collector — this is the event to attend!
For more information, please visit www.seabreezejazzfestival.net
---
Related Links: