Alexandre Renoir Discusses Family Legacy on WJR Radio
During an interview with Marie Osborne on WJR 760 AM Detroit, artist Alexandre Renoir discussed continuing the artistic legacy of his famous great-grandfather, Pierre-Auguste Renoir.
"Growing up with it, it was almost taboo in the family to go in the arts in that way," Alexandre said. "For me, it was the only thing I would always return to."
The interview can be found at the 50-minute mark of "The Big Story" episode that aired on April 27. Alexandre touches on how he became a painter, his favorite artwork by his great-grandfather, and how his Impressionist style departs from that of his ancestor. For instance, Alexandre solely uses a palette knife to paint, which Pierre-Auguste joked was only good for cleaning a palette.
"With the palette knife you end up painting in an impasto style, which means it's very, very thick onto the canvas," Alexandre said.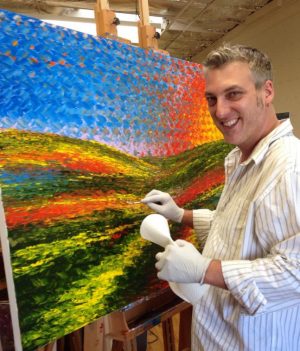 Alexandre explored various creative endeavors before becoming an artist, including jewelry design and the theater arts. Nowadays he works alongside Park West Gallery, which holds art auctions aboard more than 80 cruise ships around the world.
"It's a wonderful opportunity to work with immensely professional people. To be able to bring my art to so many places and people is really heartwarming," Alexandre said.
Check out the full interview on WJR's podcast or listen to it here.