Artists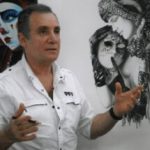 Martiros Manoukian 1947- "God gives each of us something at birth. A person doesn't become an artist – he is simply born an artist," …and so it began for Martiros Manoukian, the artist born on August 5, 1947. His talent emerged at an early age and he began painting seriously at age 11. Even as a child, Martiros exhibited his great enthusiasm for freedom, adventure, and nature.
Artwork
Sorry, no artworks matched your search
Latest News
Meet Martiros Manoukian. The Armenian-born artist's work is collected worldwide, and he's recently joined the Park West family of artists. Martiros fearlessly combines color and materials to reflect beauty, mood and movement — key elements of his work. His artistry celebrates his love of life – and of freedom – echoing at times the antiquity of his homeland combined with clean, contemporary line and imagery. Martiros says artists don't like to follow the rules. "I make the rules in my studio and...