Why We Love Buying Art on Cruise Ships: Confessions of an Art Enthusiast Couple
After entering their first cruise ship art auction, this couple has never looked back.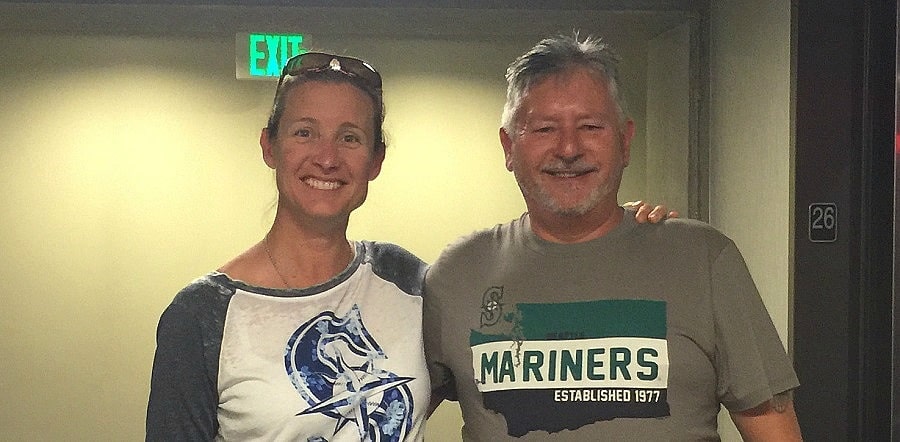 Don and Tina Tritton almost missed the boat. While their ship was docked in Ketchikan during a recent cruise to Alaska, the Australian retirees had stopped at a local pub looking to spend some quiet time together over a couple of drinks. What they found, instead, was an experience they will never forget: across the bar sat world-renowned artists Alfred Gockel and Csaba Markus.
Gockel and Markus were special guests onboard their cruise ship; Park West Gallery was featuring their artwork in an auction. A Park West staff member recognized the Trittons from the cruise and introduced them to the artists.
Over the next few hours, the couple went back and forth with Gockel and Markus buying each other rounds and sharing stories with one another, eventually losing track of time and almost being left behind at the port.
"That was a lot of fun. They wanted to know about Australia and shared their own backgrounds: Hungary for Csaba, and Germany for Alfred," Don says. "We also learned about the charitable work that they do. It was one of the most interesting experiences we have had since we began buying art on cruise ships."
After they all returned to the ship, the Trittons purchased several pieces by Gockel and Markus that have become their personal favorites: Don's favorite —Gockel's "Red Bull"—hangs in their "art gallery" hallway, and Tina's favorite—a painting by Markus—hangs in her sitting room. Those pieces joined other works by Joan Miró, Anatole Krasnyansky, Marc Chagall, and Francisco Goya in their home.
Their First Time
Three years ago, the Trittons would never have imagined they would be traveling the world, rubbing elbows with the who's who of the art world and calling their hallway an "art gallery." At the time, they had just sold a fleet management business and became early retirees. When they were on a cruise celebrating a friend's 40th birthday, Don picked up a brochure about the onboard art auction.
They had never been to an art auction before but loved art and could spend all day in an art museum, so they decided to give it a try. Even though they had no intention of buying art on that first cruise, they found several pieces that just spoke to them and won them during the auction.
Since then, they have never looked back. The Trittons have participated in a total of four cruise ship art auctions, buying more than 100 pieces of art in the process. Although they've amassed quite an expansive art collection, they don't plan to slow down anytime soon.
"We love traveling, and cruises are a great way to visit multiple locations in one trip," Tina explains. "It's given us an opportunity to meet a lot of people and explore different types of art through each cruise auction."
"It was one of the most interesting experiences we have had since we began buying art on cruise ships."
Art Guaranteed to Surprise
The variety of artwork that they are exposed to through Park West's art auctions on cruise ships is one of the things that keeps the Trittons coming back time and time again. In Australia, the local art galleries do not offer the same assortment of artwork they find on cruise ship art auctions.
For instance, Don likes the art of the Masters and the Impressionists and Tina likes color abstract works, neither of which are common to find in local galleries. Instead, they see a lot of landscape paintings, which doesn't necessarily move them.
"We enjoy visiting the local art galleries," Don says, "but at Park West's auctions, you never know what you're going to see next. There are pieces we've just never seen the likes of before. That's why we are always looking forward to our next cruise and our next Park West auction. You're guaranteed to be surprised."
From Naiveté to Enthusiasts
When they walked into their first art auction, Don and Tina admit that they knew very little about what they liked and what they didn't like. They loved art even if they didn't have the vocabulary to explain why. Since then, they've learned a lot about how to appreciate art and have grown in confidence in their tastes as art enthusiasts — even if those feelings change from day to day.
"People often ask 'What type of music do you like?' and it depends on my mood and the day," Don says. "For me, art is the same way. And I'm okay with that."
Their taste and opinions on art have evolved over the course of their relationship with Park West, and Don and Tina credit this to their friendships with Park West's auctioneers and staff, who have shared their encyclopedic knowledge of art with them.
"Anyone who is thinking about going to a cruise ship art auction should just go in, introduce themselves to the auctioneer, and speak about the pieces up for bidding," Don recommends. "Find out what you want to look at, what you're looking for, and the Park West staff will give you all the advice you need. From learning about art to meeting the artists themselves—it's been an amazing journey for us."
If you want to know more about the fun of collecting art on cruise ships, you can contact a Park West art consultant at (800) 521-9654 ext. 4 or sales@parkwestgallery.com
LEARN MORE ABOUT BUYING ART ON CRUISE SHIPS: