Artists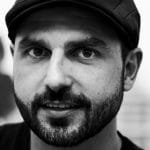 Inspired by ancient modes of storytelling, comic strip compositions, and the grit of 1970s street art, David (Lebo) Le Batard surrenders his artwork to the sum of history. The Cuban-American artist is internationally recognized for his unique style—Postmodern Cartoon Expressionism—which harmonizes calligraphy, cartoons, indigenous art, mythology, and modern melody.
Artwork
Sorry, no artworks matched your search
Latest News
What do artists talk about when they get together? Park West's Senior Gallery Director Morris Shapiro wanted to share that experience with our collectors, so, at a recent event, he gathered together three of today's most popular contemporary artists to discuss all things art. The result is a fascination roundtable discussion between Shapiro and three incredible artists—Kre8, Tim Yanke, and David "Lebo" Le Batard. The artists talked about their influences, social media, the digital revolution, in...