Savior of Marc Chagall and other artists honored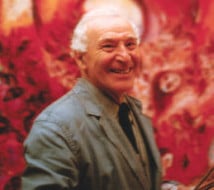 The man responsible for helping save the lives of 1,200 to 1,800 European intellectuals and artists, including Marc Chagall, was recently honored.
Varian Fry was recognized during the American and International Societies for Yad Vashem's 60th Annual Dinner at the Sheraton New York Hotel and Towers on Nov. 16.
Fry was an American journalist who ran a rescue network in Vichy France to help 2,000 to 4,000 Jewish and anti-Nazi refugees escape from the Gestapo. He worked as the Marseilles representative of the Emergency Rescue Committee from August 1940 to September 1941. He passed away in 1967.
Among the escapees was Chagall and his family, who had to flee Paris in May 1941 to the United States. Chagall passed away on March 28, 1985 in St. Paul-de-Vence, France. A special tribute to Chagall was held during the ceremony.
Bella Meyer, granddaughter of Fry, accepted the award on her grandfather's behalf:
"For my grandfather's sake, all awards should only go to Varian Fry because without his courage…Chagall would never have been able to continue painting …and I wouldn't be here either!"
Read More…
Park West Gallery has assembled one of the most extensive collections of Chagall artwork in existence.