The Genius of Pino: An In-Depth Look at 5 of His Unforgettable Works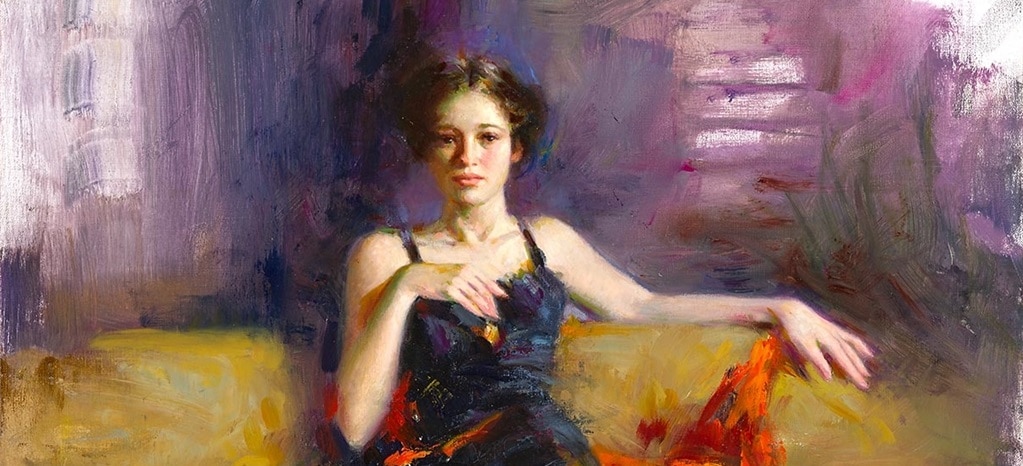 Pino is one of most accomplished figurative artists of the past century, but what exactly makes him a modern master?
"Pino is a painter's painter," says Park West Gallery Director David Gorman. "The more you know about painting, the more you can appreciate just how technically brilliant his compositions were."
We asked Gorman to take us through five memorable Pino works and help us better understand the extent of the artist's remarkable talent. Here's what he told us…
"Amelie"
David Gorman: "The first impression you get, when you look at the woman in 'Amelie,' is that she's haunting—in a good way. She sticks with you. She's so visually arresting that it's actually hard to look away from her. It makes such an impression that, unless someone is right in front of it, they would assume it to be a much larger painting. The very fact Pino was able to make such an impact in a moderately sized canvas is extraordinary.
"This painting also perfectly shows how Pino would sometimes make seemingly counterintuitive color choices in his figurative works. Look closely at 'Amelie,' and you'll see she has green accents on her forehead. There are the same mossy greens and a mustardy yellow used on her hand as well. Those might seem like odd color choices, but they make perfect sense when you look at the painting as a whole. In fact, after thinking about it, it's hard to imagine her any other way."
"Prelude"
David Gorman: "One reason why Pino was such a master artist was that he learned all of the rules and then proceeded to break them. In 'Prelude' and other works, you'll notice some very prominent white spaces in Pino's compositions. If an art student did that, it would look unfinished. But Pino expertly uses those swaths of blank canvas for effect as a compositional element.
"In 'Prelude,' he does the same thing with the drips of paint you can see in the lower half of the painting. Those come from Pino dipping his paintbrush in turpentine to clean it, but leaving a little bit of the turpentine in his brush to create that drip effect. Though to an untrained eye, this might look like a random element, what he's actually doing is the furthest thing from random. It's deliberate and powerful."
"Peonies (Original Study)"
David Gorman: "This is an interesting work because Pino is primarily known as a figurative artist, but, on occasion, he would vary his subject matter by painting a landscape or still life. What's great about this still life study is that it really shows off Pino's painterly style. You can see his broad brushstrokes, his fantastic build-up of color. These are the brushstrokes of a consummate painter.
"If you walked into the Impressionist wing of the Hermitage Museum and saw this hanging on the wall, you would never question why it was there."
"Margaret Normanby"
David Gorman: "What I love about the women in Pino's works is that they're always confident and powerful. This woman is no exception. She's a challenging subject—she's shown in a three-quarter profile, her skin like porcelain. I love how Pino weaves the lace pattern of her dress into the entire composition. This example shows why Pino's book covers became such an international phenomenon.
"What people often don't realize about Pino is that he invented the format of the wraparound book cover. He changed the way that book covers were illustrated for an entire generation. And this is a particularly successful cover. It stands on its own as a work of figurative art and shows Pino's absolute understanding of the human figure."
"Gypsy Dancer (Original Study)"
David Gorman: "This early study Pino created for his famous work 'Gypsy Dancer' really shows how masterfully Pino constructed his compositions. He started with a loose, gestural sketch of the entire composition and gradually built up color and details where needed. He tightened up his brushstrokes in the places necessary and only used suggestive brushstrokes in less important aspects of the work, commanding the viewer to focus on the dancer in her crescendo.
"What separated Pino from other artists was his innate sense of knowing what his paintings needed and what they didn't. He would only tighten up and add detail where it was necessary and effective. Look at the loosely defined audience behind the dancer—necessary to include, but unnecessary to paint in full detail. Look at the chair the guitar player is sitting on. It's only a suggestion of a chair from only a couple of broad brushstrokes. Pino knew how to emphasize the color and detail in the truly important parts of his paintings for maximum effect."
Those are just five examples, but Pino has a career full of works that truly helped re-define figurative art for the 20th century.
In closing, Gorman gave collectors interested in Pino artwork one last piece of advice:  "Whether you've been collecting for years and your palette has refined to fully appreciate the works of Pino or you happen upon him as a brand new collector—or anywhere in between—his technical ability was unmatched and continues to be unmatched to this day. He was a true original and incorporating his art into any collection is an astute move."
For information on how to collect the works of Pino, contact our gallery consultants at (800) 521-9654 ext. 4 or sales@parkwestgallery.com.