Park West Foundation sponsors graduation for Wayne County foster youth
Surrounded by fine art created by world-renowned artists, excitement and anticipation filled the air as Wayne County high school graduates from Park West Foundation's Blue Babies program processed through Park West Gallery to the sound of bagpipes.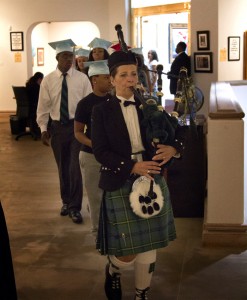 Approximately 70 students from schools throughout Wayne County donned graduation caps in their schools' colors at the June 20 ceremony, held at the Southfield, Mich. gallery headquarters. What these students have in common – all have received support and assistance from Park West Foundation while in the foster care system.
"We're just very proud of them today, and just want to let them know that we're here to continue supporting them and that we stand behind them," said Sherri Stanley, program manager for the Michigan Youth Opportunities Initiative.
Representatives from the Wayne County Department of Human Services and Michigan Education Trust as well as Park West Gallery CEO Albert Scaglione and wife Mitsie, were among the attendees, with many sharing encouraging words of support with the students.
A number of students received awards and special distinctions for academics and community service during the ceremony.
Christine Griffin, salutatorian of Detroit's East English Village Preparatory Academy's class of 2014,  was presented the $1,000 Officer Elaine Frinkley Award for Exceptional Service of Excellence to Community. The award is named after a recently deceased Detroit police officer.
In a speech to her classmates, Griffin described how she felt graduating with her peers in the Blue Babies program. "I actually was filled with joy, I wanted to cry. It was tears of joy though, because to see people like me and graduate with them, I felt part of a group, and even though I got recognized as above, I felt they were a part of me and I could relate to them."
Several students were awarded full-ride scholarships to the postsecondary schools they had chosen to attend, including Malaysha White, who will attend the University of Michigan.
"I plan to major in computer science. I'd like to become a software engineer," said White of her goals.
Michigan Education Trust and executive director Robin Lott are helping foster youth achieve the graduation milestone and reach their goals. "We created a charitable tuition program and we raise money to assist former foster care students to go to college," said Lott.
Throughout her organization's partnership with Park West Foundation, Lott said the Foundation has given students a sense of hope. "I think that Saba and the Gallery provide that tunnel of hope that everybody must have. Without hope what do you have to really strive for?
"Watching the youth graduate and go to the next stage of life is absolutely a wonderful experience," said Tracy McCullough of the Wayne County Department of Human Services.
McCullough said the young people have access to a variety of college prep resources including financial aid, college navigation programs and college tours. "Within our program, we do everything from the foster care level, case planning, programs and education in Youth in Transition to build opportunities for youth to make them successful."
The students were thankful for the support that Park West Foundation and the Blue Babies program had provided them. "They helped me a lot because I didn't have anyone, so that was like my support system," said Delanjane Amerson, a Westside Academy graduate who plans to study pharmacy.
"They gave me the support and encouragement I need to be successful in life," said White.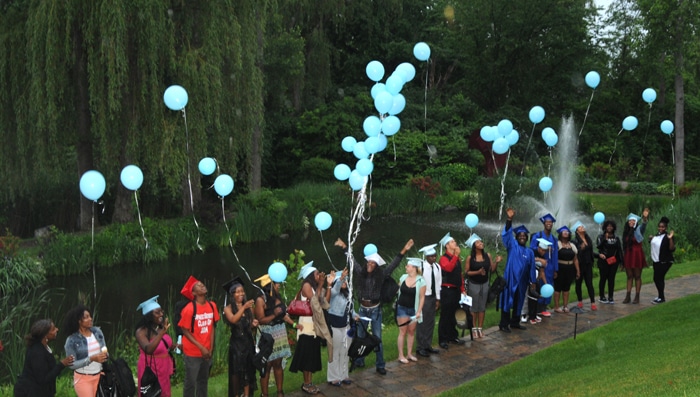 Park West Foundation was formed in 2006, by Park West Gallery founders Albert and Mitsie Scaglione. Its mission is to support organizations committed to strengthening positive values and leadership, and offering creative and lasting solutions for youth locally, nationally and globally. The foundation's local priority is to address the urgent needs of youth aging out of foster care in Southeastern Michigan.