Pangborn's "Michigan in Motion" makes top 20 in ongoing competition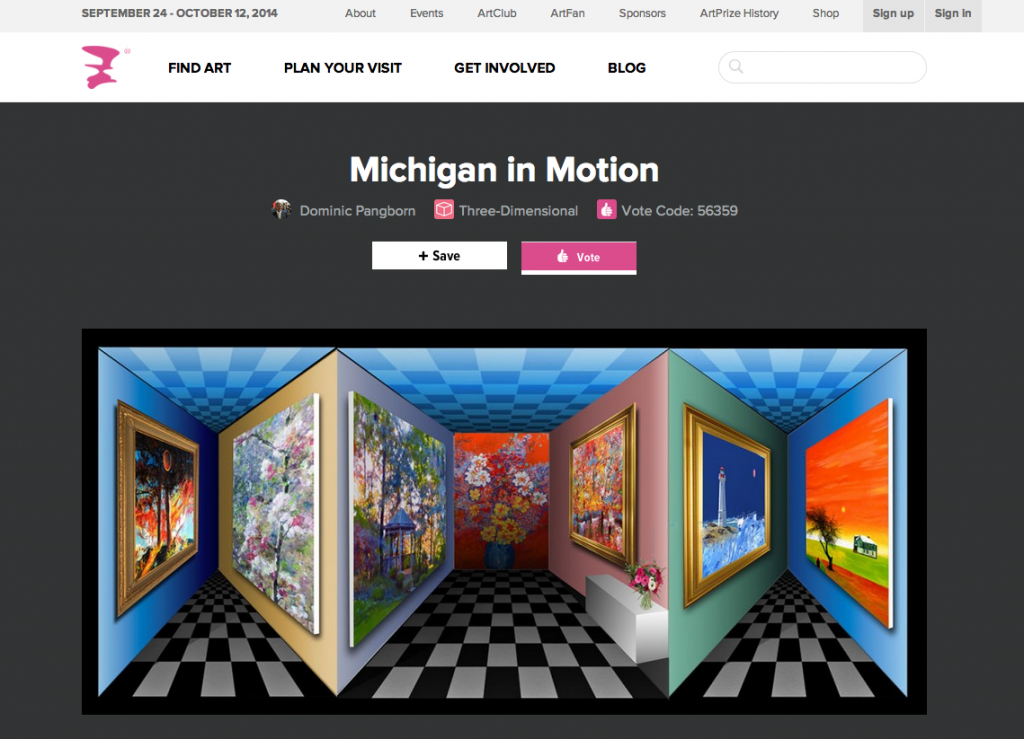 Park West Gallery artist Dominic Pangborn's three-dimensional artwork "Michigan in Motion" is heading to the next round of voting for the annual ArtPrize competition in Grand Rapids, Michigan.
After the first round of public voting, Dominic Pangborn's Art in Motion (AIM) piece – created specifically for the competition and featuring the sights of the mitten state – was a top pick. "Over the course of 11 days, 37,283 individuals cast 352,732 votes, selecting five entries from within each of four entry categories to move onto the second round. These 20 works have captured the public's eye and will move to the second round of voting, where they will vie for the chance to take home $260,000 in prizes," the contest website reports.
The Detroit artist's AIM pieces are highly sought by Park West Gallery collectors.
There's no better feeling as an artist to see so many crowds gather in front of my work, and just watch their mouths drop. – Dominic Pangborn
ArtPrize is the world's largest art prize. Organizers call it the "American Idol" of the art world.  The annual exhibition turns downtown Grand Rapids into a strolling art gallery for 19 days. The public weighs in with their opinion on the works exhibited, as does a jury of art experts. (And, apparently, they don't always see much in common.)
There's a total of $560,000 in prize money at stake in both the public and juried voting. You have to be within the boundaries of the competition to vote.
As Dominic's three-month-long exhibit at Ella Sharp Museum in Jackson, Michigan, comes to a close Oct. 11, he's enjoying the fun and excitement of ArtPrize as well as some recent media coverage by NBCnews.com and a soon-to-be broadcast feature on the Oct. 28 episode of Detroit Public Television's Detroit Performs program.