Pangborn talks about museum exhibition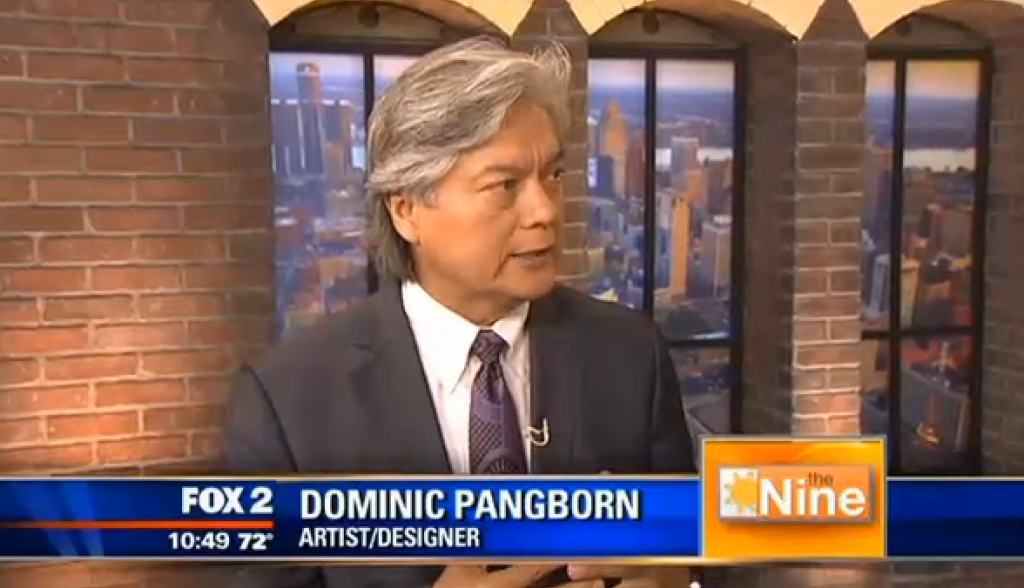 Detroit's Fox 2 Morning show today talked with Park West artist Dominic Pangborn as he prepares for Thursday's opening of his three-month-long exhibition at the Ella Sharp Museum in Jackson, Mich.
The retrospective – Evolution of Art & Design Through Revolution – includes more than 60 pieces of art and spans the 62-year-old artist's forty-plus year career. The primary focus of the exhibition is his fine art work, although elements of his design career are also featured.
Crain's Detroit, The Grosse Pointe News and the Jackson Citizen Patriot and MLive have all featured stories about the exhibit, Dominic's life and his art and design career. (Note that some of those publications require subscriptions to view online.)
From M-Live:
Pangborn, a native of Korea who moved to Jackson at age 10 after being adopted by an American family, is excited to share his experiences and accomplishments with his hometown.

Pangborn had a similar experience two years ago when he returned to South Korea to partake in the Korean Broadcasting System's one-hour documentary on his life.

"To my surprise, they had chosen me for a program called 'Global Success,'" Pangborn said. "It was so great to be able to go back to your roots and showcase where you're been.

"This is great. It gives me the opportunity to do this with my other home."
…

Pangborn describes his style as "evolutionary," which, by definition, means that style is ever-changing. "It can change daily or even by the moment," he said. "It's reflective of my current mood and thinking."
Over the course of the exhibition, Dominic will give a number of talks at the museum about art and creativity as well as make some visits to Jackson-area schools in the fall. He said he would like to inspire children with the importance of art in their lives. "Art is everywhere, it's all around," he said. "It's in a building, in the shape of a chair." He said that he would like children to know that making a living in an artistic field can be an option. "I'm proof you can," he said. "The most important thing is to believe in yourself."
Learn more about Dominic Pangborn and his exhibit at the Ella Sharp Museum.