Pangborn exhibit opens at Ella Sharp Museum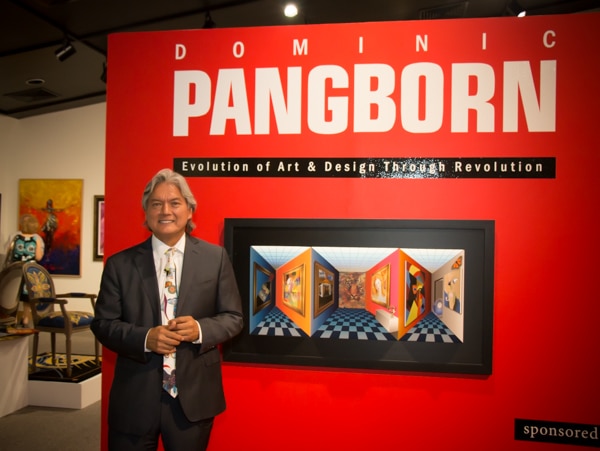 Thursday night's private opening celebration for Dominic Pangborn's exhibit at the Ella Sharp Museum in Jackson, Michigan, drew people from across the country, including many Park West Gallery VIP collectors.
The event, attended by nearly 200 guests, marked the opening of the artist's three-month-long exhibition of more than 60 works of art, as well as some of his design pieces.
"Tonight, we're here to celebrate one of the greatest assets this town has produced," said the museum's director Amy Reimann in her address to guests. Dominic was raised in Jackson beginning at the age of 10. "Dominic's work is a wonderful testament to creativity, to color and to form," she said, admitting she finds his energy inspiring. "He makes me want to get back into the studio," she said.
Park West Gallery Founder and CEO Albert Scaglione commented on how impressed he was with the museum and the exhibit. Before introducing Dominic to the audience, Albert told a personal story about his first exposure to Dominic's "art-in-motion" pieces and the artist's infectious enthusiasm for the project. Referring to Dominic's Korean-American heritage, Albert said, "In my view, he's the quintessential American." (Read Albert's blog post on the event at albertscaglione.com.)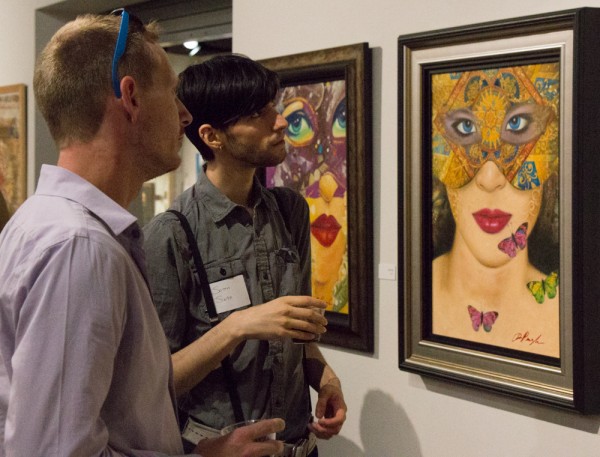 "When you are born with nothing, you have nothing – that's when you learn to make things," Dominic said. "You learn to create things. You learn to do things with what you've got or what you can get." His life in Korea is very important to him for that reason, he said.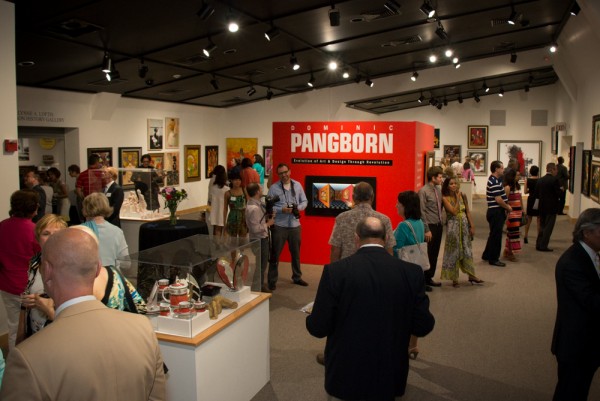 Dominic thanked his wife, Delia, for her years of encouragement and support, and he spoke about his life and his art career.
When asked about his artistic influences, he said his first inspirations came from romantic landscape artist Joseph Turner, and contemporary artists Robert Motherwell and Francis Bacon. "But the person I admire the greatest is really Di Vinci," he said, adding that no other human being can be considered a Renaissance man. "I loved everything that man was about and his creativity," he said. Dominic said that's how he approaches his own work, be it a golf club, teacup, tie or painting.
"Park West, from day one, saw me as an evolutionist because they saw that every time I came, I came with new and different work," he said. "That's what I love. I don't want to be boxed in with doing one kind of work." Although his artwork represents a multitude of styles, he said that a look at the larger scope reveals some common and iconic imagery, such as butterflies and others items.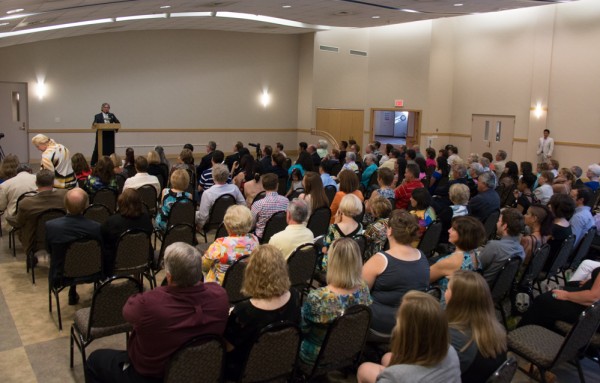 The artist took time to answer questions and in the gallery he personally inscribed copies of his children's book, "Follow Me."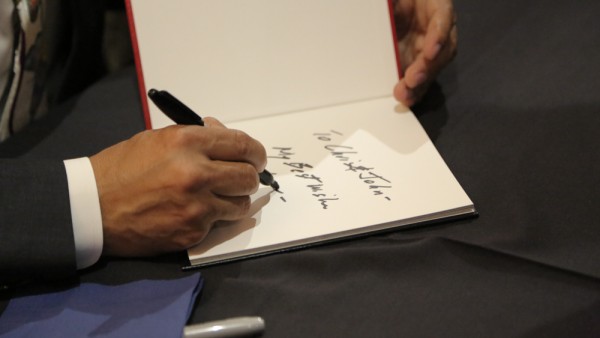 News outlets in Detroit and Jackson have reported on the exhibition, including this article on the Oakland Press' Visual Arts page.
For more information about the museum, including admission, location and exhibit hours, visit ellasharp.org. Read more about Dominic Pangborn at his Park West Gallery artist profile page.