Dominic Pangborn part of NBC holiday list
Need a good idea for a gift? NBC recommends Park West Gallery artist Dominic Pangborn and seven other ideas for finding that perfect present.
Pangborn, founder of Pangborn Design Collection, was listed as one of eight sources of inspiration for gift-giving this holiday season in an article from NBC titled "Holiday Gift Guide Looks Back at the Year in Asian America."
As the article states, Dominic Pangborn "finds artistic evolution through revolution:"
Detroit-based, Korean-American artist Dominic Pangborn, is known for his paintings and sculptures, graphic design, fashion design, as well as his contributions in the business, nonprofit, and arts communities. He recently opened a new store called Pangborn Design Collection that showcases his signature neckties and bow ties, as well as his beautiful printed scarves. He recently added a line of luggage with his designs as well as unique one-of-a-kind handpainted purses.
Pangborn is featured in Park West Gallery's Winter Sale alongside other artists such as Andrew Bone, David Najar and Linda Le Kinff.
Earlier this year, Pangborn was a top 20 finalist in the annual ArtPrize competition in Grand Rapids, and won third place for his three-dimensional piece, "Michigan in Motion," from public votes. Read more about it here and here.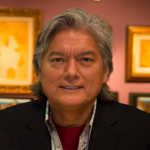 Click here to view Pangborn's collection at Park West Gallery.